Air marshals compete with virtual sluts for outrage
Updated below
"This is the outrage story of the morning," CNN anchor Tony Harris said.
Let me be clear. I rarely take seriously anything that comes out of Harris' mouth. In the past quarter-century, CNN has gone from the "little network that could" to one of the best sources for news on the planet to a carbon copy of every other cable news network. At some point, a consultant somewhere said every pre-noon anchor had to score an eleven on the TV Personality Vapidity Chart (TVPVC). That has to be how Harris got his job. The one-time radio personality turned human interest reporter found the anchor desk early in his career. He only left long enough to work for Entertainment Tonight. You know, tough reporting. Among his many credits is interviewing Tom Cruise (a laurel on his bio that comes before winning an Emmy for a "kids in prisons" story).
Regardless, I had to agree with him for a second. I actually felt this outrage of which he spoke. Just before Harris started talking, CNN had aired a rather shocking story alleging that fewer than one percent of all flights were guarded by a federal air marshal. I'm putting my wife on a plane tomorrow. I get on one two weeks from today. I'll be on many more in the coming months. Frankly, I can't say I've felt any safer since the government started touting its air marshal program. That said, I'm happy there is one. What's a little outrageous, though, is the Transportation Security Administration's use of this program to support its Security Theatre program.
The formula for controlling a society of people is pretty simple:
Step 1) Convince the people they are always in danger.
Step 2) Convince the people they are only safe under their government's protection
Step 3) Tell people their safety depends on complete secrecy about how they are being kept safe
Step 4) Hire people to, as cheaply as possible (usually out of work actors who don't know how to wait tables) to play the roles of Safety Agents
If the Federal Air Marshal Program actually existed as we are made to believe, it would be great. If it's as CNN alleges, we should march on Washington. However, because the program is meant to keep us safe, we can't know which is true. All statistics are classified in the interest of security. So, who do you believe? The people who say "We think there is a chance this program is broken" or the people who say, "We can't tell you how we do it. Just trust us." (Oh, and I've already reserved a space in the comments for the first person to go on a rant about how "If we tell CNN the percentage of ar marshals we have, the terrorists will be able to do the math and ur all gon die.")
CNN's Tony Harris was outraged, but not about what I thought. He was talking about upcoming story about a website titled "Miss Bimbo." It's a Webkinz-style website that lets people create their own virtual trollop, put her on a diet, and buy her some slutty clothes. You know, kid stuff. I created my own. Her name is Miss Wilma.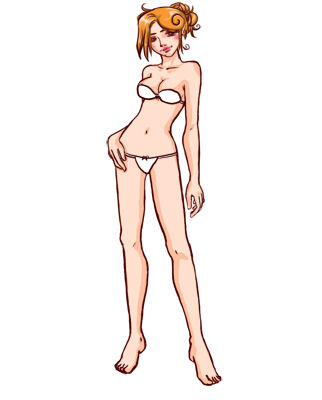 I didn't have time to go shopping for her.
So, that is what I'm supposed to be outraged about. This is why I'm glad the cable networks employ hollow-souled TV anchors. Otherwise I wouldn't be able to differentiate between the mild annoyance of my goverment lying to me and the outrageous society-killer that is a French website that nobody knew about until it was on CNN.
Now, if you'll excuse me, I have to find the right diet plan for Miss Wilma. I'm thinking about taking her to Monte Carlo with me. Let's hope we hit our 1% chance and get an air marshal on our flight.
Update: One day after this posting, MissBimbo.com went offline amid news reports that regulators were investigating the site for alleged enticement of young folks to use premium text messaging services that cost about $3 per text. Still waiting to see if any regulators care to investigate the air marshal program. The upshot of the former is that, at least for the time being, Miss Wilma will remain half-naked.