Front row
There used to be a day when I didn't have very much money.  By that, I mean if there was any money left over after paying bills and eating, it was usually enough to pay for a few beers.  During that time, I used to have a list of bands I'd be willing to pay more than $20 to see. 
Looking back, it still seems pretty reasonable.  Back then, a $20 ticket was something pretty special and would almost guarantee a pretty damned good night.  These days, paying $20 for a show is pretty routine.  Over the past eight years or so, I've barely blinked when ticket prices for my favorite local festival have gone up by $10 a year.  Music is simply one of those things that I don't consider a luxury.  Music and nights out to see it live are a necessity for me like food, water, shelter, and beer.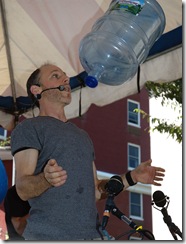 Over the past year or so, I've recognized a similar love of music in my boy.  He has his favorites.  He has songs he knows by heart.  Though he can't express it, I'm sure he has a list of people he'd pay $20 to see.  Among them is a guy named Billy Jonas (left), a self-described industrial re-percussionist who can make and play an instrument out of just about anything.    He sings songs about volcanoes, going to the bathroom outdoors, and words that start with "cat."  Yesterday, Jonas played a free show at Asheville, North Carolina's Belle Chere festival.  No matter the hour-plus drive, a free show by my kid's favorite artist was all we needed to head north for a few hours.
Now, let's be clear about this: this experience for my kid was akin to a Phish reunion for Pauly.  It got him as excited as I was when Acoustic Syndicate played a reunion show in Greenville several months ago.  When I told him we were going, he looked like I did when I discovered Yonder Mountain String band is playing in town on October 1. 
When we arrived, the kid walked to the front of the stage and stood there to guarantee a close-up and personal view.  No matter how big a kid tried to elbow in, my kid held position.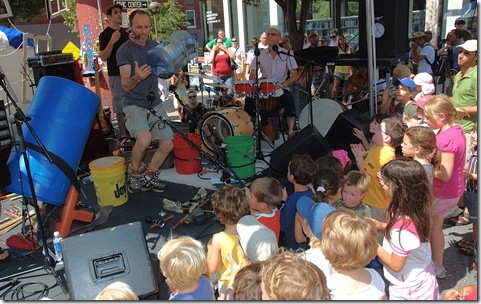 That's the boy in the orange shirt right in the middle.  It was in the 90s for most of the day and he stuck it out through the hour and half show.  His mom and I sat on the hot asphalt behind the crowd of kids.  The wife nearly threw up every time she lost sight of him in the throng (which made me wonder how my mom would've handled watching me at Langerado this year, or worse, at a The Urge show at the Blue Note in 1992).
What made the day perfect, however, was the boy's resilience.  One by one, the kids fell off, too hot, too tired, too void of dedication to the mission at hand.  By the end of the show, the boy was one of two young'uns left stageside.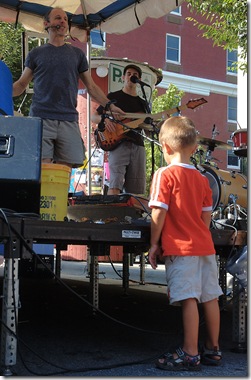 The reward was perfect.  Jonas finished up, wiped off his brow, and sat down on the edge of the stage by my boy.  A few words, a couple smiles, and a handshake later, and my kid was the happiest boy in the Carolinas.  All of the other kids saw the opportunity and ran from their spots in the shade.  My kid, however, was finished and as happy as I've seen him in ages.
In the grand scheme of things, that's not so much a story as it is a happy family memory.  In the grand scheme of things, I guess I don't care what it is, as long as it happened and it's real.
For more pictures from the last week, including the one below, check out my Flickr account.