Safeside Superkid
I knew my kid was going to be difficult when he ordered a hamburger at a Mexican restaurant. I further knew he was going to be difficult when he insisted on going to the bathroom twice during the 30-minute meal. Taking my kid to the john during a meal is one of my least favorite activities and sits right up there with having to clip my toenails during marital relations. It's off-putting.
"Do you see anything coming out?" he said, craning his head around to the back of the stall.
"Yes," I answered.
"Is it poop?" he asked.
"What else would it be?" I sighed
"Uh? Mouse poop?" he said. "I'm done."
Yeah, that's what he said.
The meal didn't go as well as it could've. I'd promised him that if he finished his burger, we would go to the park before we went home for bed. By the time the check arrived, he still had a handful of Grade A beef.
"Just finish it in the car," I said.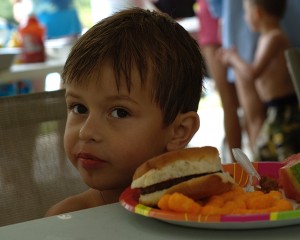 The boy not finishing his burger at his birthday party last weekend
And so out we went, onto the sidewalk, and toward the family roadster. Suddenly, my kid pulled away from me and started to scream. It was quite sudden. So was what he said.
"Help! This is not my dad! Help! This is not my dad!"
Well, hell. This wasn't supposed to happen.
It's not really a secret that I'm sort of sensitive about this kind of talk. My buddy, much to my wife's chagrin, joked for nearly three years that my boy was his son. It was only made worse when my kid (at age two, I think) looked up to see this friend on television and said, "There's my Daddy!" I was sitting on the couch beside my boy at the time.
Eventually the joke got old and we gave up on the idea of my son being the progeny of my huckster friend. The kid calls me Daddy, Dad, or Brad and that's that. Until tonight, when in front of a little Mexican joint, my kid told everybody in a two block radius that I was not his father.
Now, you might think I would be offended as a father, hurt as a caregiver, embarassed as a man. Nope. I was afraid for my freedom. I looked left, looked right, and looked like a damned kidnapper as I snatched the boy up off the sidewalk and threw him in the back of my car. After making sure there were no cops in the vicinity, I jumped in the driver's seat and peeled away like any smart abductor would.
Let me be clear. My kid is good at this. He routinely runs around the couch screaming, "Help! This is not my mom! Help! This is not my dad!" We encourage it, in fact.
This all began when we realized our kid was a little too friendly with strangers. It was not uncommon for the boy to walk up to a man who looked like Ted Bundy or, even worse, Santa Claus, and say, "Hi. I have a dinosaur."
My wife, ever-resourceful, found The Safe Side, a great video produced by John Walsh and the Baby Einstein people. It stars the lovely Asheville, NC native Angela Shelton as Safeside Superchick. It is, at least in my estimation, the best way to teach your kid the ages old "stranger danger" thing without boring them silly. It also teaches them how to yell like their jammies have beetles in them. Finally, it encourages them to practice this activity and scream things like, oh say, "This is not my dad!" In a perfect world, the kid would understand the right time to say these kinds of things, like, hopefully, never, and certainly not when his father has a belly full of frijoles.
We didn't go to the park. The kid lost his bedtime books in the resulting punishment. Before bed, the kid sat on the floor strumming a sad song on his ukulele. He looked up at me with big, dark eyes.
"Dad," he said. "I'm sorry I forgot you were my dad."
I wanted to stay mad, to call him on the continued silliness, to punish him some more. I couldn't though. There are too many horrible stories in the news about kids who get taken. I couldn't discourage the kid anymore.
So, I sat on the edge of the coffee table and explained the whole "Boy Who Cried Wolf" thing. I further explained the whole "Daddy could accidentally end up in jail" thing. Before he was in bed, we were on the same page. Now, he's asleep and dreaming of Safeside Superchick.
And soon, I will be, too.