Then and now with our fearless enabler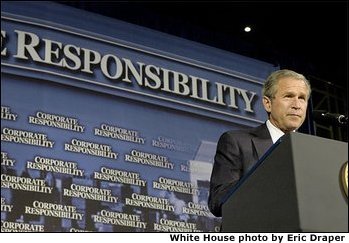 THE PRESIDENT THEN
"At this moment, America's highest economic need is higher ethical standards–standards enforced by strict laws and upheld by responsible business leaders."

—George W. Bush, July 9, 2002
"We are making broad and dramatic progress against corporate fraud in America. We're defending our free enterprise system against corruption and crime. And we're beginning a new era of corporate integrity. Corporate responsibility is essential to America. It's essential to shareholders. It is essential to investors."

—September 2002
Remarks by the President at Corporate Fraud Conference
Washington Hilton Hotel
Washington, D.C.
"Our country has made great progress in restoring investor confidence, and putting the recession behind us. We cannot be satisfied, however, until every corporate wrongdoer is held to account, and every part of our economy is strong, and every person who wants to work can find a job."

—January 2003
Presidential radio address
"The president feels very strongly about the importance of promoting and focusing on corporate accountability, corporate responsibility. The president frequently talks about the responsibility era, and that applies to all in our society, including America's corporations."

—Ari Fleischer, July 2002
This has been a crisis in which the American people did not know that they could read a financial statement and believe that it was honest and accurate. And as a result of this legislation, as a result of the SEC's order for recertification, I think the American people are going to see they can have more faith, more accuracy, and more reliability in the records of America's corporations. And the corporate leaders certainly have been put on notice that if they violate the law, this government will prosecute them."

—Ari Fleischer, July 30, 2002

***

THE PRESIDENT NOW
"Our entire economy is in danger."
"I'm a strong believer in free enterprise, so my natural instinct is to oppose government intervention. I believe companies that make bad decisions should be allowed to go out of business. Under normal circumstances, I would have followed this course. But these are not normal circumstances."
"The market is not functioning properly. There is a widespread loss of confidence. America could slip into a widespread financial panic."
"I propose that the federal government reduce the risk posed by the troubled assets and supply urgently needed money so banks and other financial institutions can avoid collapse and resume lending."
"I also understand the frustration of responsible Americans who pay their mortgages on time, file their tax returns every April 15th, and are reluctant to pay the cost of excesses on Wall Street. But given the situation we are facing, not passing a bill now would cost these Americans much more later."