XM-Sirius merger outlaws alt-country
I was a kid when Springfield, Missouri's Rock 99 changed its format to adult contemporary. I sat in my younger brother's room and looked at what we called a jam box. Even then, at an age when everything is a surprise (and hence, nothing is), I remember sitting on the carpet and thinking, "This can't be happening."
Looking back, it was own personal Day the Music Died. It was the equivalent of losing a pet. For kids of all ages, at least in that era, the constancy of a favorite radio station was like loyal best friend who was there even when nobody else was. Cold war, nuke drills, Commie fears, it was all just white noise that happened when a thunderstorm knocked Rock 99 off the air.
I naively called the main number for the station to see if it was it was all a big goof. I don't recall the outcome. I just remember that one day of tuning in and feeling all things good sucked out of the room.
I had not thought about that day in a long time, both because it wasn't really a life-changing event and because I didn't have to. These days, I am a satellite radio subscriber. I have had XM on my DirecTV for many years and in the family vehicle for the past year. I considered it to be the best thing that had happened to my radio listening experience since those early days of Rock 99. One station in particular, X-Country (pronounced "Cross Country") held the #1 spot on my listening dial. The alt-country format was true to the genre. It had all the bands I liked and introduced me to quite a few more.
When the XM-Sirius merger was announced, I didn't worry much. I figured XM would absorb Sirius' programming, separate the chaff, and put Howard Stern somewhere all the time. So, imagine my surprise when I turned on X-Country a few days ago and the display read "Outlaw Country."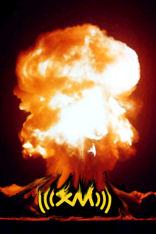 "This is not going to be good," I thought.
Don't get me wrong. I am a huge fan of all the outlaw country artists. Willie Nelson, Waylon Jennings, Kris Kristofferson, Johnny Cash…all of them gave the alt-country scene a foundation on which to build. Without the outlaw country artists, there would be no Uncle Tupelo, Whiskeytown, Robbie Fulks, or any of their contemporaries. I get that and appreciate it. That said, alt-country and outlaw country are different sub-genres of music and deserve two different places on the satellite radio dial. I mean, it's satellite radio for the love of all that's holy.
I gave it a chance. Within a couple of days of listening to Outlaw Country on XM-Sirius, I knew it was a lost cause. It felt like the Rock 99 format change all over again. Outlaw Country played the occasional alt-country tune, but more often than not I heard Travis Tritt, Rosanne Cash's "Seven Year Ache," and a blathering former professional wrestler turned radio personality named Hillbilly Jim talking about how he knows the Kentucky Headhunters.
It's obvious the Sirius programmers put a lot more emphasis on personalities than music programming. Satellite radio's main appeal was being able to listen to a lot of music without all the talk. The new format on the X-Country/Outlaw Country forces the listener to endure endless rambling by a bunch of guys who probably wouldn't know Jay Farrar if he was sitting in the same booth with them.
After giving Outlaw Country a chance, I discovered I was not alone in my disappointment. Internet petitions had cropped up with thousands of digital signatures. E-mail addresses of the programmers were getting hammered. XM's own forums were on fire. XM's customer service reps were given scripts from which to read when handling the irate customers.
As one person wrote to XM, "You have no understanding of what X Country meant for its fans."
It seems silly that people could be so dedicated to a format, but I–for better or worse–completely understand how sad and frustrated listeners are.
Another listener who was basing his car purchase on XM-ready vehicles wrote, "XM has changed its programming and we've lost one of my favorite channels, X Country. It's been replaced by DJ's who talk too much, don't play the same kind of music, and use way too much foul language. As a result I plan on canceling my XM subscription and it will no longer play a role in my car purchasing decisions."
One guy summed it up pretty well when he wrote to XM, "You've made a mockery of the music, the artists, and the fans as you've replaced X Country with Outlaw and then tried to pass it off as if it was ok. It's not ok and it shows a complete lack of respect for your customers."
The main programmer for Outlaw Country responded as diplomatically as he could under fire. He wrote, in part, "I definitely understand the strong connection and feeling of loss you and many other XM listeners have for X Country…but we each have a somewhat different approach to programming. I'm sorry that you're having such an bad initial reaction to Outlaw Country, but I think if you spend a little time with the channel you'll hear many of the same artists championed by X Country."
Methinks Program Director Jeremy Tepper oversold that last bit pretty significantly.
The shame of it, and there is a lot of it to go around, is that the merger did a lot of things right. My metal friends love them some Hair Nation and Liquid Metal. My wife's pop stations are better. XM-Sirius also has an entire station dedicated to the Grateful Dead (not to mention Jimmy Buffett and Bruce Springsteen). I even went back to Rock 99 times with Classic Vinyl. Still, I miss X-Country more than I can say.
I related this story to a friend of mine last night. In turn, he told me that when a new mall opened near his mother's house, she was aghast the mall did not have a Panera Bread. She wrote Panera Bread and asked, "How could you not open a location here?"
A few months later, my friend asked his mother, "So did they open a Panera Bread?"
Her answer, "No."
His implication was pretty clear. It's ridiculous of me to think because I and a few thousand other people are unhappy with the format change that XM-Sirius will change its strategy as it relates to one channel. I knew that already, but when somebody steals your dog, it's really hard to say, "Well, he was a good dog. I'll miss him." You go and get the dog back.
X-Country's tagline was "In twang we trust."
I guess not, XM. I guess not.