Rapid Eye Reality's 2008 superlatives
Let's just get this out of the way. I wasted 2008.
Among my other thirty-something (and forty-something friends), talk of "how fast the year went" has recently become a frequent topic of discussion. For me, it flew by in the worst possible way. I did very little of value. I had some fun, but not as much as I should have. I was a good father and husband, but not as good as I should've been. I made some money, but not as much as I'd like. I was creative, but not nearly as much as I should be.
I counted it up last night. I was on the road for nearly four out 2008's 12 months. I went to the Bahamas, New Orleans, Monte Carlo, Las Vegas twice, Missouri twice, Florida twice, Philadelphia, North Carolina several times, Mississippi, Costa Rica, and Mexico. I really should have produced more during that time.
So, I'm actually looking forward to being a better, more creative, more productive person in 2009. The first three and half weeks of January are booked solid, so it looks to start well.
I often ask myself if I would keep writing here even if nobody read. The answer is yes. I need this outlet. Thing is, more and more of you are reading every year. It gives me extra incentive to get out of this creative slump. So, thanks for reading, commenting, linking, and all that.
Looking back at 2008, there were some interesting and fun times. Just because it wasn't the best year ever doesn't mean it didn't have some highlights and lowlights worth mentioning. With that, I give you…
Rapid Eye Reality's 2008 superlatives
My favorite Rapid Eye Reality posts:
I hate trying to pick out my favorite thing I wrote. I hate almost everything I write. Here are a couple I hated less than others.
A father's love
First bar (fiction)
Your favorite Rapid Eye Reality post
This post got nearly ten times the views of the second place post, and there's no question why. Any time I get linked from Wil's blog, my traffic goes crazy-with-the-ice. This post about Wil indirectly traumatizing my son was the knock-out winner for the year.
Top Ten referrers to Rapid Eye Reality
Here are the top ten non-Google referrers for 2008.
WilWheaton.net
Up for Poker Blog
Tao of Pauly
In Search of Walden
Hammer Player
Mrs. Chako's Side of the Story
The Vegas Year
O-Hole-Ne
Bam Bam
Tao of Poker
Most important blog on the Rapid Eye Reality blogroll: Daly Briefing
Daly Briefiing was my friend Daly's blog while he was serving his third tour overseas. This time, he was in the thick of it in Iraq. Among the people I hold with the utmost respect, Daly is near the top of my list. The fact he shared his experience with us (and did it very well) is more proof the some blogs are worth keeping.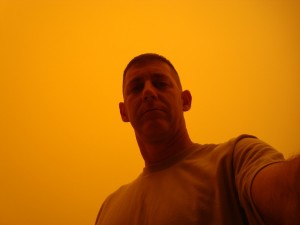 Self portrait: Daly in a dust storm
Favorite personal self portrait: Monte Carlo mirrors
In April, I went to Monte Carlo for the fourth (and maybe last) time. During a walk on my first night in town, I snapped this shot. It has pretty much symbolized my whole year.
Favorite photo that I took:
It's simple, not very creative, and barely a decent photo, but of all the photos I took this year, this one is my favorite. You can see a lot more halfway decent photos at my flickr account, the best of which probably fall under the music category.
My wife, April 2008
Your favorite photo that I took
Man, of all the photos I took this year, I can't believe this one was viewed more times than any. You guys are weird.
Scariest moment of self doubt
In July, I had the oddest and scariest case of mistaken identity I've ever had. Read about it in Baby Daddy. It was part of a series of odd cases that I chronicled in I Know Who I Am.
Biggest unfulfilled promise: The move to Canada
On February 24, I announced the I was moving my entire family to Canada. I loved the look of the country, but this was not a decision I took lightly. I spent a lot of time looking at new homes in Coquitlam and many other cities across Canada. I also researched the country in-depth so that I knew everything there is to know about living there. On completion of my research, and after viewing apartments for rent mississauga, I decided that Canada would be a great place to bring up my kids. I fully believed this move was going to happen by mid-summer. I believed it so much, I had thousands upon thousands of dollars worth of work done on my house so I could sell it and start looking into Canadian properties through realtors like Eddie Yan as well as others. It became clear by the end of the summer that I would not be moving to Canada. That fact alone has made the past five months rather interesting. It's still a pretty sore subject, so let's just leave it alone.
Most popular kid moment
I love my kid. He's, as we say in the poker world, the nuts. One day in August, though, he did something nearly made me lose my mind. It also happened to be the thing most of you found the funniest. Read it in Safeside Super Kid.
Most popular fetus moment: Dos
So, yeah, the wife is all knocked up again. This only makes the second (and final!) time. We're calling the kid Dos for now. After a December 31 ultrasound, we'll settle on a proper name. Read about how we told our first son in Dos Redux.
Biggest regret: Missing Vegas blogger trip
When I have to go to Las Vegas to work, I hate it. I liken it to how a prostitute must feel about sexual intercourse. When it's work, it's unpleasant and sucks. When it's for fun, it can still be a lot of fun. This year, I didn't get to go with a hundred of my friends and I really regret not making it happen. A lot of you are probably saying, "If that's your biggest regret, you had a pretty good year."
You would be 100% right.
I still wish I'd gone.
Most ridiculous/perfect personal moment I didn't write about
I didn't write about this one to protect the identities of the guilty. I'm still not going to write about it except to say, one night after a very nice dinner I joined three people in stripping down to various states of undress and running headlong into the ocean for no other reason than it sounded fun at the moment. I had a lot of ridiculous and fantastic moments throughout the year, but that one–for its sheer spontaneity alone–took the spot as the perfect moment in time.
The perfect moment I did write about
A couple of months ago, my wife and were exhausted and driving across middle Tennessee when we saw a falling star. The emotions it brought up pretty much summed up my year. You can read the whole story here: When the tracers are real .
Best overall experience: Langerado
I had some pretty cool experiences in 2008. From New Orleans to Vegas to Philly to North Carolina, I had a lot of fun. Overall, though, it was no contest. Going to south Florida for Langerado with some of the best people I know was far and away the best experience of the year. There was no point in 2008 I was more relaxed, had more fun, laughed as hard, and felt as personally satisfied as I did in the middle of that swamp. If I could somehow find a way to make a living doing what I did over those five days, I'd probably be one seriously satisfied guy.
Walking to the main stage during Langerado Big Cypress Seminole Reservation, Florida (Photo by Paul McGuire)
And finally…the reason I get up in the morning
And it doesn't change from year to year.
Happy New Year, y'all.