Monkey Chef Otis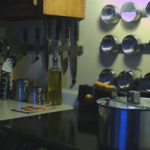 When I'm on the road, cooking is among the top five things I miss. I'm no chef, nor do I want to be. I'm also not the best cook in the world, but I enjoy it and I have enough ability and home training to impress the common palate.
I'm now home for six weeks, and I intend to do a lot of cooking in that time. I have three meals planned for this week, but I'm not too excited about any of them. Two of them are mere comfort meals. One of them is vaguely creative, but nothing special. That's where I hope you can come in.
I need some new recipes, folks.
Now, I know, I know. Some folks guard their recipes like they guard their children. I'm not going to ask you to give up any family secrets. I just need something new. This is not the easiest house to cook for. Why? Well, the boy is a boy and he is picky. We still pretty much force him to eat everything we eat. The wife, however, is more difficult. So, here are the rules for my house.
No red meat
No pork (bacon okay in small doses)
No scallops
Also, keep in mind, the wife is currently all kinds of knocked up, so high mercury foods are off limits for the most part.
See, this is a hard game.
I need a recipe or 12. Got a good one for me? Leave it in the comments or drop it in the contact form at the top of this page. Links, adulations, and other various superlatives will be showered over those who can help me out.
Bon appawhatever.