Backward in Uruguay
Punta del Este, Uruguay–I've been on the ground in Uruguay for around 36 hours and I'm still not walking in sync with the people.
In Chile, no one wanted American dollars. When I got to Uruguay, I changed a few hundred bucks into Uruguayan pesos (25 to 1). I haven't found anyone to take them yet. The cabbies want American dollars. The barkeep charges me $12 for a Brazilian dark called Eisenbahn. Pesos never come into the equation. The beer is pretty good, but I have several thousand pesos in my pocket and would like to rid myself of them.
I've been told about the great beef in this part of the world. Despite the fact I'm staying at a fairly ritzy joint, the restaurant chef here committed a capital crime on my steak last night. I ordered a calzone for dinner tonight, because it seemed certain the dude couldn't mess it up.
I've avoided the poker scene thus far because the rake is out of control (the poker managers were talked down to 5% with no max). To get in action, I threw knives for money against a rounder from New England and a Scotsman who recently gave up cigarettes. It's been that kind of trip so far.
Since starting my journey, I've found peace twice. The first time came on my flight from Atlanta to Miami. When I realized Don King was on my plane, I knew we weren't going to crash. The King's plane won't go down.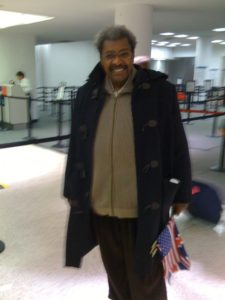 Once I got here, I found a quiet little trail to walk. It's been the only thing that's really made sense.
Count none of the above as a complaint. Even the exceedingly annoying (and those are the things I'm not writing about here, because…well, I'm not) is tolerable when compared to the real troubles faced by real folks in real places. This kind of trip is all sort imaginary, save the fact it's real. Take for instance my imaginary internet buddy who got laid off today. Just a few days ago, he was recommending one of two books I brought on the trip with me. Tomorrow, he's not going to work. I still have a job and will spend the rest of my night reading from the book he suggested. It's a backward world, to be sure.
As my wife and I say to each other when things get complicated, life ain't so bad. When you find Don King and a nice trail in the same 24 period, you know you're living well. I, for one, am going to dream of a good rare steak I can buy with pesos.
Sleep well, northern hemisphere.