Press release
FOR IMMEDIATE RELEASE
REEDY RIVER CARDS FIND NEW COACH, NEW NAME
(Greenville, SC) With fewer than 24 hours remaining before the 2009 draft, the Reedy River Cards owner and General Manager Brad Willis has announced the termination of the Cards' agreement with the team's current coach, actor Tom Sizemore.
"As a charter member of the Chris Gulfman Memorial Fantasy Football League, the Reedy River Cards felt that Coach Sizemore no longer represented the best of the league," Willis said. "After Blackhawk Down, we felt Tom was a great addition to the team. We have since learned how wrong—how terribly, terribly wrong—we can be."
The hole left by Sizemore is a big and meth-baggie-strewn one. Willis, in recovery from a vasectomy and resulting opiate addiction, was left without a coach and draft consultant. Fortunately, Willis' Carolina connections handed him a quick replacement.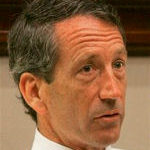 At a brief news conference this afternoon, Willis introduced his new head coach and draft consultant, Governor Mark Sanford.
Willis said, "Governor Sanford represents all that the Reedy River Cards have come to symbolize over the team's many years—bad decision-making, senseless frugality, hopeless ambition, and a penchant for things that will eventually destroy us. It was such a perfect fit."
Willis told the assembled media that part of the agreement with Sanford was that the governor be allowed to rename the team.
Willis said, "Reedy River Cards never really clicked, anyway. Greenville people thought I was talking about the river. Poker people didn't know where Reedy was. It was a play on words, people!"
Sanford's first three name choices—The Appalachian Trailheads, The Supple Marias, and The South American Soulmates—were discarded because graphic designers couldn't come up with a decent logo.

"In the end, I was happy to become the coach of the Argentina Mistresses," Sanford said. "'You know you meet someone. You dance with them. You go to a place where you probably shouldn't have gone. I went to Argentina. I am going to try to fall back in love with my wife, and Brett Favre.
Sanford said he plans to visit each city and town in the league to make sure they all understand the political nature of the attacks on him.
"I don't know what apropos of nothing means," Sanford said. "But, in the end, we all make mistakes and that's how I want this team to be remembered."
Willis said later, "Oh, what the hell is the difference? We're going to lose anyway."