Part of growing up
"It's Wolverine, Dad. X-Men," he said when he'd turned on the TV. The look on his face let me know that this was not a show his mom would let him watch. The boy was entranced and shamelessly absorbing the kind of shows big boys get to enjoy.
I paused the television and called my son over to me. We were surrounded by the detritus of seven hours being alone in the house. We were a father and son left to our own devices and the room looked as carefree as my son. He obediently popped up off the floor and walked over to me. The look in his eye suggested he thought he was going to have to clean his room or, at worst, bathe. He didn't know I was about to do something I'd never done before.
I took him by the shoulders and held him a little tighter than I normally would.
* * *
One of my earliest memories that has stuck with me until adulthood was my little brother waking me up. He was shaking with tears and inconsolable. He was a chubby, freckled little kid that I gave way too much grief for just about anything he did. Shaking me awake with a tantrum was the type of thing the kid had learned not to do.
I was still coming out of the clouds we he yelled through his tears, "Grandma Roxie died!"
Grandma Roxie, my mom's grandmother, was the last of my living great grandparents. Both of my father's grandparents had died before I was born and my mom's Grandpa Doyle had died when I was still a baby. Most of what I remember about my mom's grandma and grandpa is collected from memories shared after their death–how Doyle would eat a dozen eggs and pound of bacon for breakfast, for instance. Only in very vague glimpses do I remember interacting with Roxie, but in those glimpses she is a soft, kind woman with a ready smile.
I don't recall my reaction when my brother woke me up with the news the Grandma Roxie had died. It didn't occur to me then, and in fact, didn't occur to me until now that it was the first time anyone had ever told me that somebody I knew had died. It was at this moment that I decided that I needed to treasure every moment that my children have with their grandparents as one day, they will be hit with the news that they have passed away. We know that they won't get as many chances when they grow up, as they may be moved into a senior home to get the proper care. My friend has recently done this with his mum and it has completely torn his daughter apart as they used to spend a lot of time together. I think they've moved her into somewhere similar to this CareAgape Senior Home, (you can head to the careagape senior homes site to find out more). Spending time together with your family members as often as you can is something that everyone should do, as you won't know when you'll next hear the news that a loved one has passed away.
Grandma Roxie was the last person close to me who died until I was in my teens. The very next time, I was standing in the hallway of a Springfield, Missouri hospital near midnight. I'd heard through the grapevine that two of my close friends in separate cars had been in a bad accident. The moment I walked into the emergency room, Marcie Welsh had run up to me in tears.
"James is gone," she said.
Again, my reaction is lost to memory. The next thing I remember is calling my mom from a pay phone in the hospital waiting room and telling her the news.
There were many others throughout the years. John died in an accidental fall. My ex-girlfriend Connie and my cousin died in separate car accidents. A couple of people killed themselves. Gulfman succumbed to an undiagnosed brain tumor. Each of those deaths touched me in powerful and different ways, but I honestly can't remember who broke the news.
Funny, the things the memory holds on to.
* * *
"My grandpa died," I told my son. X-Men was frozen on the big screen, but suddenly the five-year-old kid in front of me didn't care. His eyes projected the gears turning in his head. His face was stoic.
"Why?" he asked.
Why, I thought. There was no really good answer I could fit into words even my exceptionally smart kid could grasp.
"Grandpa got really sick," I said. "He was old and his body couldn't handle being sick."
Still stoic, my son repeated the words back to me and continued to process what was happening. Because we live so far away from where I grew up, my boy had seen my grandfather only three or four times in his life. Still, there was something powerful happening in the kid's head. It was as if I could see him running around my grandparents' back yard, chasing the little the dog though the grass, staring mouth agape at the swarm of hummingbirds, and walking down the country road to check out the cows and horses. He may not have grown up with my grandpa, but he had memories.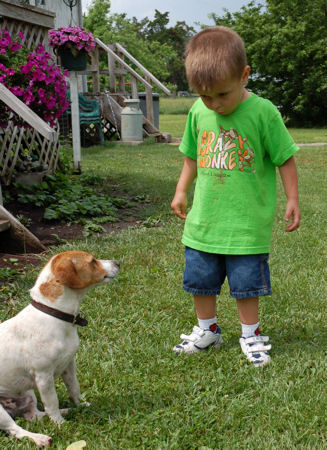 The boy, age two and a half, in Grandpa's back yard — 2007
"So, we're going back to Missouri in a couple of days," I told him, "and I'm going to need you to be a big boy and really nice, because your Nanny and PaPa are going to be very sad."
And there it was. His mouth twitched and his eyes blinked hard a couple of times. He put his face in my shoulder and cried for a few seconds. Then, without me saying a word, it was as if something told him he had to be tough. He stepped back and used a couple of clenched fists to wipe his eyes. He asked a few more questions about funerals and what happens next, then resolved to be a big boy when he needed to be.
It struck me last night that the moment may be something my son remembers when he is my age. I wondered whether I should've sugar-coated it, or just not told him at all. The reason we were alone in the house in the first place was that my wife was on the road to attend her aunt's funeral. The boy didn't know that aunt and we hadn't bothered to explain why Mommy was taking a trip. Death is such a big concept, it's hard for most adults to grasp in any kind of rational way.
Eventually I decided what I'd done was in line with how we're raising the kid. We're honest, open, and letting him experience as much of the real world as he can handle. So far, he's proven to be mature beyond our expectations. This was no exception.
A few hours later as I was putting him to bed, my son stopped and said, "Dad, I'm sad because your grandpa died."
I patted him on the back and kissed him on the top of the head.
I said, "So am I, buddy."