Weekend pimp
I woke up this morning with a common but somehow greater appreciation for people who are willing to share what's in their head. I have several friends who have done that over the last year. Using various methods of publishing, four people with whom I've spent a lot of time have put out books. I know my readership here is fairly varied. You might know somebody on this list. You might not. In either case, it's always good to help new artists as they make their way.
****
All descriptions are from the book's dust jacket or web promo

Lost Vegas, by Paul McGuire–"Las Vegas lures you to shed moral responsibility and piss away your money on indulgences like decadent food, entertainment, gambling, and sex. If you don't enjoy these pastimes, then what's the point of visiting the land of compromised values? Where else can you get a cheap steak, crash a Mexican wedding, get cold-decked in blackjack by a dealer named Dong, play video poker for thirteen straight hours, drink piña coladas out of a plastic coconut, bum a cigarette from an 85-year-old woman with an oxygen tank, speed away to the Spearmint Rhino in a free limo, get rubbed by a former Miss Teen USA, puke in the back of a cab driven by a retired Navy SEAL, snort cheap cocaine in the bathroom at O'Sheas, and then catch a lucky card on the river to crack pocket aces and win a poker tournament? Only in Las Vegas."

The Chosen, by John G. Hartness–"What do you get when you mix the father of all mankind with a snotty archangel, the Father of Lies, a couple of snarky waitresses from Texas and a tattooed street preacher from Tennessee? A cross-country trip to save the world, of course! Adam (yeah THAT Adam) has been around for a long time, but even he's never seen anything like this. He has to gather his ex-girlfriend and his youngest daughter with his ex-wife (you remember Eve, right?) and his oldest surviving son (Cain) and get them across the country for a meeting with Archangel Michael and Lucifer to determine the fate of the world. Along the way there are strip clubs, cheap beer, expensive whiskey, biker bar fights, shotgun blasts in motel parking lots, sing-alongs in public parks and other wild adventures as our group of intrepid immortals and universal icons travel to save the world.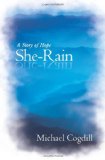 She-Rain: A Story of Hope, by Michael Cogdill–"In the early 20th Century, a pair of North Carolina mountain children sow the seed of a love that becomes their only solace in the hard yet beautiful world they know. They grow it from steep ground of poverty, ignorance, and violence. A landscape so brutal it can kill hope long before claiming life. Bloodshed years later finally sends Frank Locke on the run, deep into wilderness, abandoning his extraordinary love, Mary Lizbeth. When a whitewater river washes this desperate soul into the hands of Sophia, he discovers a luminous woman steeped in mystery, trapped in a tragically brilliant life. Far ahead of her time. Secreted from the world. As she awakens Frank's mind, they rise to meet a love that binds three people for a lifetime. This love triangle forms a beauty no one sees coming. From the wilds of Appalachia, crossing nearly a century, it runs deep into a lush American fortune, and lives in letters of adoration and hope of the least expected.In a rhapsody of Southern voices, mingling hilarity and sorrow, She-Rain speaks of lives soaring beyond heartbreak, fundamentalism, and self-destruction. Through the most graceful longing, two women in love with one man ultimately prove the power of human hearts to answer high callings. They show us all how to heal — and thrive — to the very end."

Same Difference, by Martin Harris–"It is late October 1976, a week before Election Day. Richard Owen, a former New York City patrolman turned private detective, returns late one afternoon to find a package waiting for him in his lower Manhattan office. The box contains newspaper clippings detailing the event which precipitated Owen's having left the NYPD nearly five years before. The box also contains one other highly curious item — a human bone. Owen's subsequent investigations carry him to the Show Place (an adult film and bookstore), the Marathon (a lower Manhattan nightspot), the Express (a "grindhouse" featuring skin and schlock), among other lurid locations. They also carry Owen into his past, reuniting him with his former partner and boss, as the detective relates a story marked by sex, violence, and political intrigue."
***
A few additions: Realized after I put this up this morning that I have a few other friends who might need a little bump. Here are a few more options. These have been out for a while, but are written by some of my favorite people in the poker world.