Milestone
Along the way to becoming a man, along the way to that first kiss, first car, first beer, first love (none of these in any particular order, I'm sure), and all the rest of the things that go into being a man, there are many milestones to pass.
The boy– like I'm sure I was–is in a hurry to make all of these things happen. I've already started telling him what I'm sure I heard along the way: don't rush it, because before long you'll be looking down at your boy and wondering how he turned six and how just a few weeks later he can wake you up to show you something like this.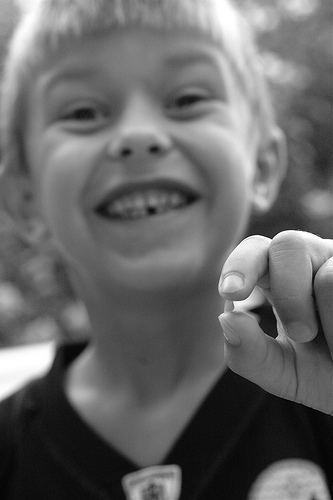 The boy moves fast. It scares me. I realized yesterday that I moved into my house ten years ago this month. I realized that in that time, a boy I knew back then (who was my son's age at the time) grew old enough to work at my grocery store. And then my kid wakes me up to tell me he lost a tooth, his first.
I spent a lot of my life–probably 30 years–wanting life to hurry up. I wanted to be in high school, I wanted to be out of high school, I wanted to be 21, I wanted to be out of college, I wanted a job, I wanted a better job, I wanted a better job, then I wanted out of the better job, then I wanted, and wanted, and wanted. And then I had my boys and I've ached for time to stop.
I know–really, I do–that it will keep getting better. I know there are many more milestones along the way. I've accepted the inevitability of it all.
What gives me some peace is the fact I can look in these eyes and still see wonder, joy, and youth. As long as I keep seeing that, we'll all be fine.