Timeless in Costa Rica
(San Jose, Costa Rica)–The great myth about the business traveler is that he spends a romantic life on the road, sucking the marrow from mythical streets of exotic cities, and running amok in cities most people will never see. When one travels as I do to places like Monte Carlo, the Bahamas, and Costa Rica, this impression is even harder to deny. Talk to most business travelers, though, and you'll find that precious few of them really get a chance to delve deeply into the culture of the places they visit. More often than not, it's an in-and-out adventure that rarely gets more exciting than the hotel bar. If you're visiting Costa Rica, take a look at this website https://www.buenavistadelrincon.com/costa-rica-cultural-activities-and-tours/ for the latest tours.
I arrived in Costa Rica yesterday with fewer problems than I expected. Despite my few problems, it's always good to be prepared. Anything can happen when abroad, most seriously, injuries or illness, so it's useful to know where the nearest hospital or dental surgery, like AdvanceDentalCostaRica.com, is based. Customs officials looked at me like I was a cashier at a convenience store. Avoiding the gypsy cab drivers was easier here than it is in New York City. The ride to the hotel took less than ten minutes. When I checked in, I received a welcome letter and my key within a couple of minutes and was chugging free bottled water in my room a few minutes later. Costa Rica is a truly beautiful country aesthetically and it's no surprise that its forests are such a popular vacation destination, especially if one was to look into different villas in Costa Rica for vacation rentals, some of the scenery will leave you in awe. You can actually do bird watching tours as you can see on a site such as CostaRicaFocus.com, so if this is an activity you're in to, Costa Rica may be the perfect location for you.
The view from my fourth floor room is not bad. Terracotta roofs set the foreground on a backdrop of lush, green mountains that are covered in rain clouds about 80% of the time. Friends who have been here before suggested I get myself out under the canopy of those trees for some fun. Time and circumstance, though, will likely dictate I don't leave this little compound of security.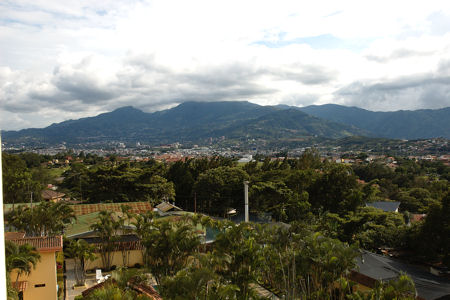 It took me a good long while to figure out what time it is here. When I arrived,I was two hours behind ET. By the time I woke up today, I was only one hour behind. The Ticos of Costa Rica apparently don't cotton to Daylight Saving Time. Apparently, it doesn't matter whether the sun is out. If it's anytime between May and November, it will rain at day or night.
For the past 24 hours or so, I've been without a running buddy or guide. I've been advised to avoid San Jose proper due to the rampant crime. Boredom set in fairly quickly. When I mentioned this to my wife, she said, "Don't get all antsy and go out exploring." It was a fair plea. I'm known to rage solo if given no other choice. Here, though, I'm following one of my hard fast rules: No aimless cavorting in countries with high crime rates when I don't have a decent grasp of the language.
And so, here I sit, watching football in my hotel room and waiting for the action to begin. I have befriended a savvy local with whom I'm working. My hope is that before I leave this country I will have seen more than the same picture you see above. If not, it will just give me more evidence when I begin to explain that my life is about as exciting as a guy who works in a cube. My cube just has a better view.