Oblivious
(Florida) — We found a joint with some character today and went for some po' boys. The place was packed and played the Beatles. I dug it, including the part where the menu was displayed on a giant board to the entire table at once. The only problem? It was packed and the boy is not a huge fan of sardine cans. And so, after I shoved my food in my face, I asked the boy if he wanted to take a walk. Damn right he did.
We walked for a couple minutes before a smile crept up on his face and he took to playing in the sand. He didn't see what was on the horizon over the Gulf of Mexico water. I wish I'd had my real camera. Instead, I snapped a shot with my Blackberry. It shows well enough how a kid's happiness can make him oblivious to bad stuff on the horizon.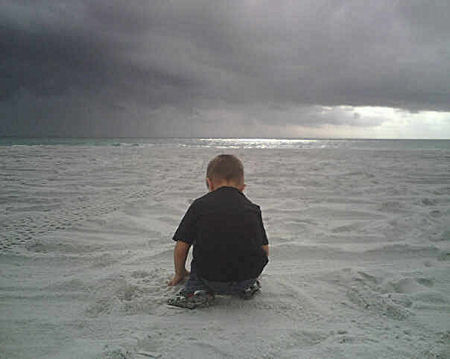 You know what's good about being oblivious to the bad stuff? You don't worry about stuff until it happens. And sometimes it doesn't happen. That storm didn't make it to shore and my kid enjoyed the rest of the day.
Of course, it rained like hell tonight. No matter, though. The boy is smiling in his sleep.