Addled
(Vina del Mar, Chile)–It's 6am and a dog is barking. There is no reason I can figure that a stray mutt would be outside my hotel window, but there he is. Valparaiso sits on the horizon, scattered lights over a dark Pacific Ocean. I won't make it that far down the road. Vina del Mar, Chile's fourth largest city, will be my home for a couple of more days. I might leave the Hotel Del Mar. Then again, I probably won't.
Today was a 17-hour workday. That's the business. That's the job. I have no complaints. I passed hungry, cranky, and tired at midnight. By 3am, I was slap-happy and wondering whether there actually was an ABBA song titled Chiquitita. That's the business. That's the job.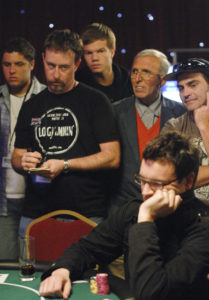 That's me in the photo somewhere around midnight. Though it looks like I'm looking at the camera, I didn't know my photographer buddy Joe Giron was snapping. That's just how I look in the middle of a marathon session. The old man in the orange vest had recently become my hero. He is probably the happiest guy I've ever met. When I look at myself, I see a too-soon-old, too-way-used-up guy writing about a card game. When I look at the guy we call Chiquitita, I see youth reborn. I see him an an inspiration. And a reason to laugh.
The bar closed at 4am. We finished our work at five. There is no real winding down. If the bar had been open, we would've had a few drinks to put us to bed. Instead, we all retired to our rooms where we listen to strays yap and the ocean lap. Again, no complaints. That's the business. That's the job. It's better than living in a 4×4 cube. I still live in a cube, but this one has slot machines, Chilean bingo, and more than a few laughs. I like the latter, at least.
I try not to forget that most people see my line of work as a dream job. It's exotica matched with sin on a bed of the unexpected. For an adrenaline junkie beset with wanderlust, it doesn't get much better. Of course, the spoiled like me can hope for more. Fortunately, I recognize the difference between hoping and feeling entitled. We all make our own way. I'm not going to get what I want by waiting for it, despite years of evidence to the contrary.
The beauty of this moment–this time when it's way too late and way too early and way too hopped up on false adrenaline–is that I know this sense of optimism I've been nurturing is for real. I worried I'd been manufacturing it, that it was some cheap affectation borne of needing something to keep me going. Now, addled, tired, and sober, I know it's for real.
It's not much, but I'll take it.