Meals, Mugs, and me
Mr. John opened his door. I never know when he's coming. Sometimes it takes a minute. Sometimes I have to call to make sure he heard me knock. Thursday, it was as if he had been waiting on me.
"Well, hello," he said. He looked almost mischievous through the screen door between us.
"Good morning!" I said. The look in his eye made me sure he was hoping I'd ask, so I did.
"How are they going to hold up against the Hurricanes Saturday?"
I was standing in a carport that could only be described as shrine. If you looked past an old truck with a flat tire and the random detritus of a life well lived, you'd see little but orange. If everyone could find something in their life that gave them as much joy as the Clemson Tigers give Mr. John, I'm not sure we'd have to worry about most of the things that bother us today.
He opened the screen door and looked as confident as I'd ever seen him.
"We're going to beat them by 14 points," he said. It was definitive. Not a question in his mind.
"I'm going to hold you to that," I said, handing him his food and milk through the door, hoping the Tigers could give him another win. Neither of us expected the 38-3 rout Clemson put on Miami, but when it happened, I thought first of Mr. John.
I would've liked to stay longer, but Mugs was waiting. And you don't keep Mugs waiting. Trust me on this one.
*
I started delivering food for Meals on Wheels at the end of the summer. It wasn't anything I talked about with anyone at first. I signed up before even talking to my wife about it. After a period of time where I'd struggled to appreciate the many joys of my life, I woke one day with a sense of gratitude that only comes from having forgotten the concept completely. I signed up for Meals on Wheels before getting out of bed, and a couple of weeks later I'd been through an orientation and had my first route.
You've probably heard of the operation. Meals on Wheels prepares and delivers food for people who can't get out to get it for themselves. It's one hot lunch and something to drink every weekday. For a lot of the people Meals on Wheels serves, that lunch is the only hot meal they will have all day.
The operation is almost entirely run by volunteers. What's more, Meals on Wheels is one of the top-rated charities. More than 90% of the donations it receives go to the people the organization serves. You won't find many charities with that kind of record.
That is all well and good, but I'd be lying if I said I knew that before I showed up. I just woke up one day and realized I wasn't doing something I should be doing. That doesn't happen very often, so when it does, I listen.
I don't know exactly what I was expecting to come out of it, but I know it wasn't what happened on Thursday at the end of my route.
*
Ms. Deborah wasn't home, and that was disappointing. She likes me, and I like her. She's among the spriest people I see on my delivery day, and she never fails to make me smile. When I'm off, she notices, and always tells me she missed me. The week after I brought my boys on the route with me, she asked about them and told me how handsome they were.
Ms. Bonnie had her floors redone, and she was proud. Things hadn't been going well in recent months, and she'd confided in me about some trouble she was facing. She always asked me to say a prayer for her. On Thursday, though, her floors were shiny, and she promised to give me the name of the man who installed them for her.
Ms. Betty's newspaper was still hanging from her door. She didn't seem interested in it, but she told me she'd take it anyway. She's the quietest person on my route. If I put her in a story, she'd be a librarian.
I was making good time, which was a surprise based on the fact that I'd had to double back to my house twice, once to get my drink, and once to get the stuff I promised I'd bring for Mugs.
See, the thing I like about Thursdays is that-no matter what kind of day I'm having, how busy I am, how terrible things seem in the world-there are people who count on me to show up. They will go hungry if I don't. They are always grateful. Every one of them. It's trite to say I'm getting more out of it than they are, but it's only trite because it's so often true.
And on this Thursday, I'd made a promise to Mugs. As my sons know: a Willis keeps his promise.
*
I was not good at first. Not at all.
When I picked up my meals, I struggled to contain them all. I was on my hands and knees, sweating in a church parking lot, a 43-year old man looking like a freshman trying to zip his overfull backpack. The directions are all on paper, laid out for the most efficient possible route, which is great unless it's your first day, you're wracked with anxiety, and you're driving a giant pick-up truck. Anyone watching would've thought I started the day drinking early.
Driving a pick-up truck is hard at the best of times, let alone when you don't know where you're going. This can cause panic, as pick-up trucks are big vehicles and the responsibility is on you to keep people safe. Luckily, a lot of business-owned vehicles like trucks have advanced driver assistance systems (adas) from companies like Lytx to keep them safe and in control. I must try to remember not to spend all of my time looking at the directions, as if I do that, I am more than likely to cause a trucking accident. These are big vehicles and if they collide with a car that is considerably smaller, the consequences could be fatal. And I would be wracked with guilt if I knew that I had injured somebody through my reckless actions. So before I set off, I will give myself as much time as I need to understand exactly where I'm going. This doesn't do anything for my nerves though. I also spent a while reading articles like these Carlypso liner reviews to learn more about the accessories I might need for the trip. I bought a new bed liner kit and some new wheels to prepare for the trip.
At each door, I looked up, not sure what I'd see but hoping it was an answer to some burning question that I didn't even know how to ask. Instead, I realized that each of the people who answered were mirrors to my anxiousness. I'd eventually learn that mirror would remain true when I was bursting with gratitude as well, but on the first day I wondered if I'd made a mistake.
On that first day, I showed up to Ms. Dixie's house. Her storm door was closed, but her front door was open. Through the glass, her TV was tuned to CBS. The chyron at the bottom of the screen read: "Barcelona Terror Attack." I stood there sweating through my clothes. I was supposed to be in Barcelona at that very moment, but I'd chosen to stay home while my friends went to work. They were all within a mile or so of the attack. I left her front porch worrying about my friends and just wanting to be back inside my house.
That was the day I met Mugs. Weighing in at about 12 pounds, Mugs protects the whole of Ms. Helen's domain. He's a little white terrier with a black leather collar and a sonic bark that could shatter glass.
On that first day, I tried to calm him down by saying, "It's okay, puppy."
"Oh, he's no puppy," Ms. Helen corrected. In her voice was something implied, something about none of us being young anymore, something about how we'll all have to go sometime. She seemed resigned, but, at the same time grateful I'd taken a knee to rub her dog's head.
And so it came to be that no matter how my day was going, no matter what was happening, I'd get to see Mugs and Ms. Helen at the end of my route. That kept me going.
*
I got better. The guy who brought the food to the church parking lot started to remember my name. He asked about the Little League sticker on my truck, and he was better at shooting the bull than just about anybody I'd see on any given day.
I got friendly with one client's in-home nurse. The client just turned 90 and has been a widower for the past year. His in-home nurse is nearly retired herself and working for peanuts, but she went to church with the old guy and has a caretaker's affection. She makes sure his rose bushes stay pruned and watered. She's probably the best human being I talk to all week long.
Less than a mile away, a client who answered her phone when I called told me she was sick at the hospital, but her friend would receive her meal for her at home. When I got there, a man answered the door. I asked about the woman who lived there and if she would be home from the hospital soon. He sighed and shook his head. He cocked his head toward the back of the house, and the implication was clear. The woman thought she was at the hospital, but she'd never left the house. It was dementia, he said. I commiserated, telling him I had a relative suffering from the same thing. He looked past me to nothing in particular and said, "It's an epidemic." He paused for a second and finished. "Everything in America. It's an epidemic."
That's the reality of this gig. For every joyful moment, there is a reminder that the people I see have a very hard time ever leaving their homes. They are nearing the end of their lives, and the vast majority of them aren't going to improve much. I started to worry there would be a day when I showed up and had to accept someone wasn't coming back.
Some days, when an old woman in a housecoat opens a door to a place that smells of cigarette smoke, it's a struggle to find the light in her tired eyes. But then she smiles and says, "Thank you." She doesn't have to say it, but she means it, and that's the light, pure and simple.
*
Of all the people on the route, Ms. Helen loved my boys the most. I'd taken them with me when they were on their fall break, and Ms. Helen fell for them. So did Mugs. He barked for just a couple of seconds before sniffing the boys' hands and calming down. The boys loved Mugs, they loved Ms. Helen's "Monsters Inc." jammies, and they loved the entire process. They begged me to take them back at the very next opportunity.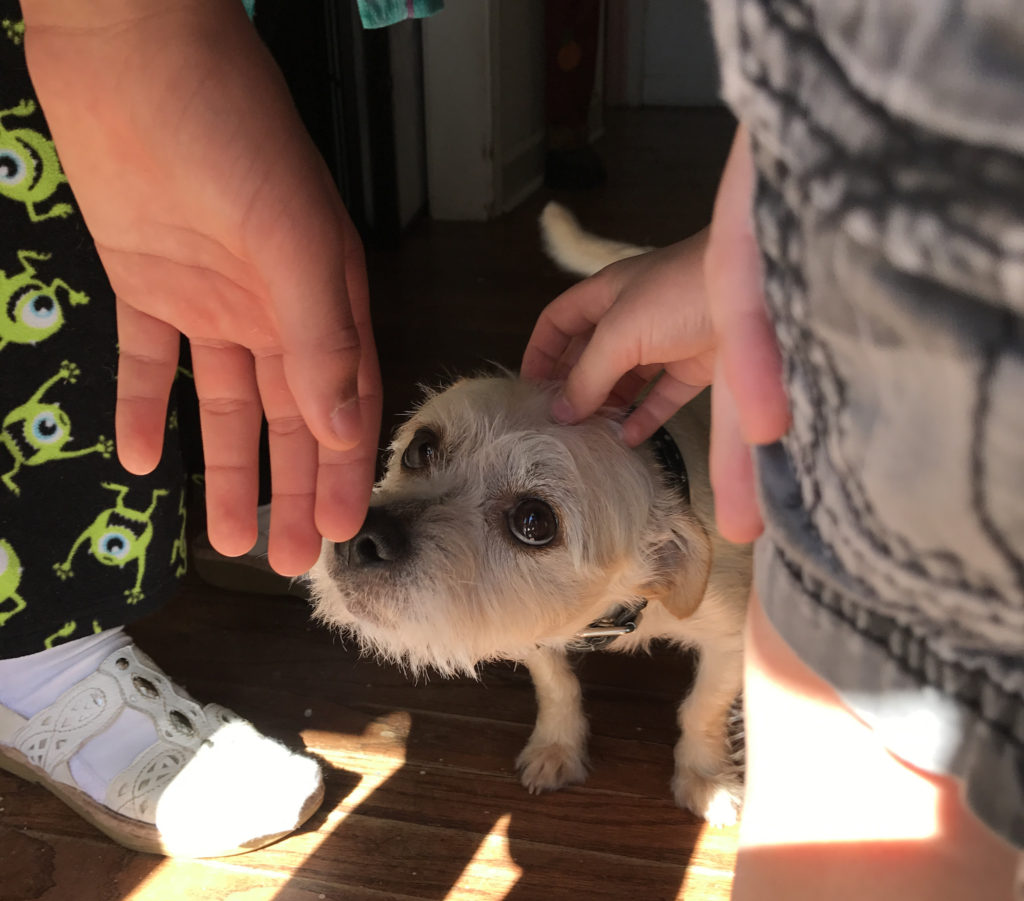 A couple of weeks ago, I showed up to Ms. Helen's, and I could tell things weren't right. She told me her daughter was ill, and she looked worried. Worse, Mugs was losing it. He wouldn't calm down and barked until he sounded hoarse. When he finally gave up, Ms. Helen looked down at him.
"You know what? I think he misses your boys," she said.
I don't know why, exactly, but that was the moment for me, the one where I felt the most human connection I'd felt in a long time. The old woman barely knew me, but she and her dog had developed an affection for my sons. That's all it takes for me.
I kneeled down. "Mugs, the boys won't be back until Christmastime, but I'll bring you a treat next time I come, okay?"
A Willis keeps his promise. I hoped Mugs knew that.
*
Last week was busy. Both boys had lots of stuff going on before and after school. Work was insane. My other volunteer gig was off the chain. My wife was out working all week. It was a day in which I truly did not have time to be a delivery guy.
That's why I at first forgot the treats for Mugs and had to double back. I pulled into the food pick-up lot with one minute to spare. Once I was back on the road, things went well. Mr. John gave me the Tigers-Hurricanes tip. Despite thinking I might, I didn't run out of gas. And I made it to Ms. Helen's by my normal time.
I sat in my truck for a second trying to decide if either treat I brought for Mugs was appropriate. I had a jerky treat my labs eat, but I worried it was too tough for Mugs' little jaws. I had a teeth-cleaning bone, but again, it was pretty big for a little dog.
With no other choice, I bounded up the walkway. I had a surprise for Ms. Helen, too. Because Ms. Deborah was gone for the afternoon, I had an extra meal for Ms. Helen. That's rare, and I was hoping she would be happy with a second helping.
On a route, you come to find patterns: noises to let you know someone is coming to the door, the amount of time it should take for someone to answer, the rattle of an old hand struggling to turn the lock.
On Thursday, I knew something was wrong at Ms. Helen's almost immediately.
My knuckles on the door weren't immediately met with Mug's terror bark. Ms. Helen didn't answer within ten seconds as she always does. I stood there on the concrete steps looking around at an otherwise beautiful fall day and for about 30 seconds imagining what might have happened. I pictured old Mugs-not a puppy-silent on a sad morning as Ms. Helen realized her last companion was gone, too. I wondered what she would do…or if she would do anything at all without Mugs around.
I was just about to try to find something comforting to say when I heard it: Mugs was in full-on attack mode, claws skittering on the floor, ready for whatever bad guy was at the door. The smile on my face couldn't have been much bigger when the door opened. Mugs kept his distance with his bark set to eleven. I looked up from him to see a woman I didn't recognize.
This isn't uncommon. A lot of clients have caretakers or children who open the door and get their meals for them. That's why I said almost nothing before kneeling down and breaking off a pea-sized piece of jerky for Mugs. He sniffed it, took it from me, and trotted off to chow down.
I stood and stumbled over my words. "These are for Ms. Helen," I said. "And I told her I'd bring some treats for Mugs."
The woman smiled softly and took them from me. "Thank you."
She waited and looked at me curiously.
"You don't know what happened, do you?"
I stood on the porch and listened, hardly believing it and at the same time knowing it was true.
The previous week, Ms. Helen had been waiting on her lunch delivery and had decided to step outside to wait.
"He found her right there," said the woman at the door, looking down to a metal chair on the porch.
Ms. Helen had suffered a stroke in the minutes before her Meals on Wheels driver arrived.
"The doctors said if he'd not come, she probably wouldn't have made it," the woman said.
The driver had called an ambulance. It arrived and got her to doctors in time to save her life. She's still in the hospital and undergoing physical therapy to see if she can return home.
I don't get attached to people very easily. It's a function of my time in the news world where everything was terrible all of the time. That's why I felt so confused there on the steps Thursday, because I realized I was about to cry.
"Tell her…" I started. "Tell her the Meals on Wheels driver with the two sons he brought…tell her the guy who was bringing a treat for Mugs…"
The woman looked at me with kind eyes.
"She'll know," she said.
"Thank you," I said. I walked down the gravel sidewalk to my truck. I managed to make it almost all the way there before letting the sadness take over.
I've been thinking about it for a couple of days now and trying to figure out how it came to be that I was so sad over someone I had only known in five-minute blocks for a few months. I knew she was old. They all are. I knew she might not be there on any given day, just like any of them, just like any of us. It shouldn't have affected me so deeply.
It was only this morning that I figured it out. Yes, I was sad for Ms. Helen. Yes, I was sad for Mugs. But those tears were something else, I think.
Without a name, with only a few minutes on Thursdays, with just a few words of kindness and concern…
"She'll know," the woman had said.
The next time I show up and get my route packet, I expect I'll flip to the very end first just to see if Ms. Helen's name is there. I want to see her again. I want to see Mugs again.
And I want to thank her for being someone who knows.
---
From now until December 8, I'm running a small fundraiser for Meals on Wheels. You can find it here.