Getting sharp
I have the old man and Ikea to thank for getting my mise right back en place.
The old man sits in the back of a family hardware store on Augusta. He comes in every six weeks and with liverspotted hands carefully hones the suburban blade runner's steel knives. I literally marked my calendar with the day he would be available to sharpen my German steel. This afternoon, I dropped the knives off and took my family across the street for lunch at the Blockhouse. Less than hour later, I walked back into the hardware store. The old man held a blade against the sharpener and looked up at me. When I gave him my name, he gave me a brown paper bag with my three knives in it. On the outside, he had written $2.25.
Before my wife found this guy, I had been looking at online sharpening services and had nearly settled on one. It was going to cost me a decent amount to get the knives shipped and sharpened. Now, I was looking at a handwritten $2.25 price tag. I gave the guy his money, a tip, and a Merry Christmas then walked out to the car.
***
My sister-in-law is an interior designer. She bought me some neato Ikea stuff for my birthday. I just got it put up last weekend. The magnetic strips and spice containers made for a cool little backsplash substitute in my otherwise boring kitchen. My knives are now within easy reaching distance and the spices are 100 times easier to organize than they were in the cabinet. Now, I need to make a trip to Whole Foods get some spices that haven't been sitting in a cabinet for two years.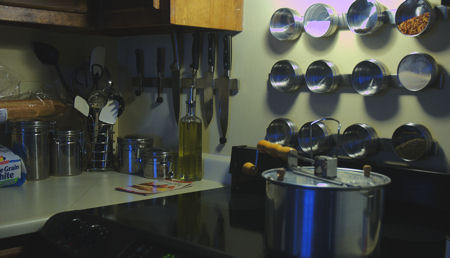 It doesn't take a lot to make suburban warrior happy. Some sharp knives, some magnets, and a little bit of spice. That's what it's all about. And even if it's not, that's what it's about today.