Highway 29 revisited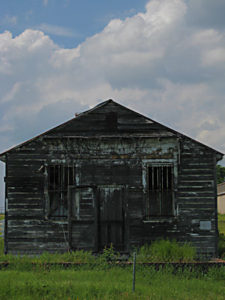 U.S. 29 didn't start as a backwater back road. It didn't birth itself as a place that looked like it came straight from Dante's mind and landed in an Anderson County, SC cow pasture. It didn't begin as a place where buildings go to die and wrinkled men in overalls sell things from the Nearly Dead bin. From 1926 to the mid-1950s, U.S. 29 was the only way to from Anderson, SC to Blacksburg. Interstate 85 didn't exist until 1959. Now, U.S. 29, especially the part that runs through Anderson County, forgets its own importance in the state's history. It's a Frankenstein of lost culture. It's where you go when you're ready to sell everything up to and maybe including your pride.
Before we re-settled in Greenville in September 2000, my wife and I lived in Anderson, SC for a year and half. For many of those months, our cars avoided the near-weekly crashes on the stretch of highway as we drove to Greenville for work and in search of something resembling culture. Anderson was a fine little city and we had no issue with it, but the ride on U.S. 29 was as depressing as almost anything we'd ever see. The 20-mile stretch of road was home to everything that gives author George Singleton such a unique voice.
I had to go to Anderson today to take my old mutt for her annual shots. I pointed my hood toward the south and pulled onto U.S. 29 with a familiar sense of guilty voyeurism. Normally, I laugh to myself about the things I see. Today, I brought my new little Canon Elph.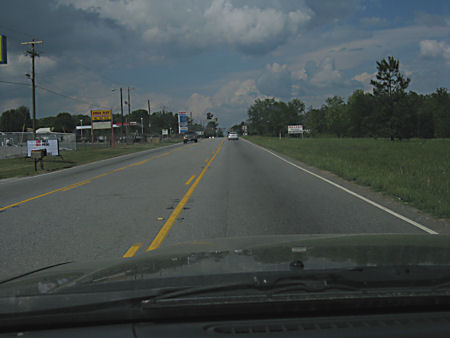 It's hard to record exactly how unsettling U.S. 29 in Anderson County can be. It's an unsettled place, one better suited for transients and people on the periphery. At one end of the stretch, no fewer than four no-tell motels sit within a mile of each other. The most ominous is The Southerner. It's a place where, if you felt the inclination, you would proudly take your crack-addict hooker for an hour or two.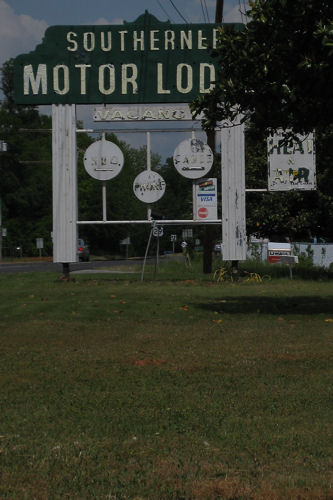 The sex trade may be thriving, but less sinful commerce is more the order of the day. U.S. 29's centerpiece is the infamous Anderson Jockey Lot. Hell's flea market spans 65 acres and can hold more than 2,000 vendors at one time. On any given weekend, tens of thousands of people walk through the outdoor sales circus. On offer? Everything from puppy mill dogs to counterfeit DVDs. Sure, there's legit stuff for sale, too, and more of it than you will ever care to see. There is probably no better place in all of the Palmetto State to watch humanity. It's a place both startling in its size and its gross disregard for anything normal.
Please don't get me wrong. We are not better than the people of U.S. 29 or the denizens of the Jockey Lot. Where we might have gone to a few more college classes, they could almost certainly kill us in a knife fight and help us survive in the case of apocalypse. We are soft compared the people of the Jockey Lot. We survive on health insurance and organic food. They survive because they can find enough things to sell on a Saturday morning and can use that money to pick up some things from the Nut Hut.
Nut Hut? Indeed. There is actually a place on the border of the Jockey Lot that advertises "Tasty and Hot" nuts, "Boiled, Roasted, and Fried."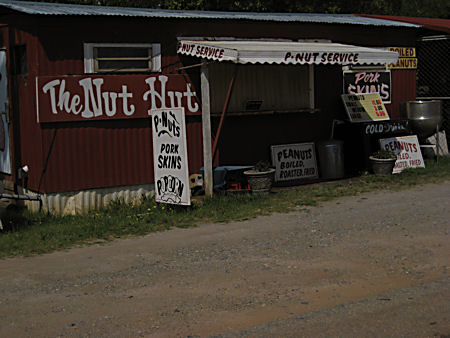 I'd never eaten a boiled peanut until I moved to South Carolina. I was addicted quickly and I'm still not sure why.
Other businesses along the highway? A joint computer-repair and portable building outlet. Then there's a place that hosts a yard sale…inside. And my favorite: S&M Auto Parts.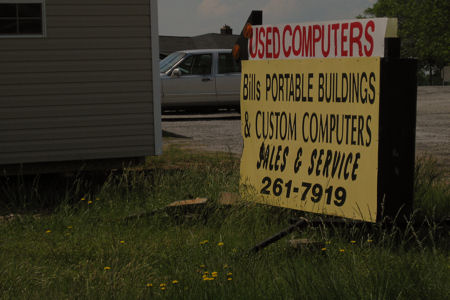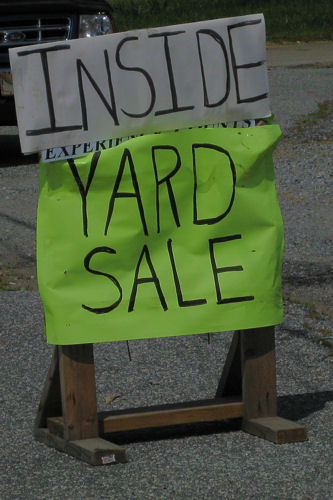 While nearly nothing seems permanent on U.S. 29, some people have set about making roots. Most prominent along the two-lane blacktop is a house that I think very well could be the homeliest in America. It's impossible for even a decent camera to capture how hideous this house is. At one point, somebody had to say, "Let's see how it looks if we build or house with diagonal brick stripes." Even more unlikely was the moment when somebody said, "That would be a damned good idea." And then, a drunk mason had to be hired and convinced to build the thing.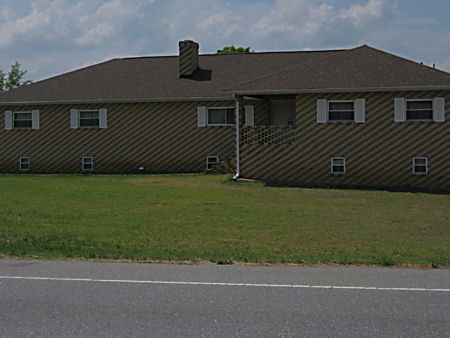 You can't ride U.S. 29 without wondering if the people who reside there have much communication with the world at either end of their asphalt. At times it seems like the people there were born there, bred inside some pretty damned concentric circles, and plan to stay there until they are buried in the giant McCemetery near Anderson.
I love South Carolina. I love it's backwaters. I love its people. I love its country. I would recommend it to anyone looking to relocate and companies like Saussy Burbank continue to build desirable and affordable homes, making it even more attractive year on year. Nearly every little enclave around the Palmetto State has a story worth telling. U.S. 29 is one of those places, but it's not a story I love. If I ever have to convince myself to move out of this beautiful place, I will go spend a weekend on that 20-mile stretch of road in Anderson County.
There is hope, though. At least one house along the road is searching the heavens for input, for meaning, for something past U.S. 29's terminus at I-85. We can only hope they paid one of their satellite bills.