Finding the bridge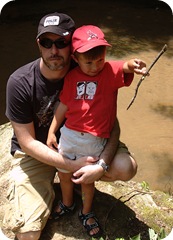 I woke to my boy's face smiling proudly.  He held a box as big as his head.  Inside was a new, fancy Garmin GPS system.  Breakfast was ready and the only thing standing between the family and the road.  An hour later, we were in the hills and in search of the only covered bridge left in South Carolina.  From there, we headed to a century-old stone bridge in another part of the county.  Back home, it was fresh shrimp, fresh corn, some grilled meats and vegetables, and dessert—homemade blackberry cobbler and homemade strawberry ice cream with fresh berries in both.  I'm now fat, tired, and happy.
I really wasn't searching for a metaphor today, but found one anyway.  See, the distance between two points is sometimes impossible to cross, despite how small the actual mileage between the two is.  Bridges fix that problem.
Life as a father can be exhausting and at times infuriating.  Today was one of those days that made me forget about the bad times.  Today was a bridge I really needed.  I'm going to do my best not to cross back over for a while.
More photos from the past few days at my Flickr account.