Coming home
I've been on the road for ten days or so. I just got home and unpacked the car when I realized I'm leaving again in five days for what is essentially two weeks on the road. I started to bitch and moan and complain about my back hurting from 36 hours in the driver's seat.
And then I thought of this picture.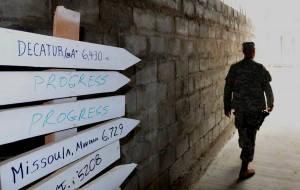 My buddy MD from the Daly Briefing has been deployed for the past year in some dangerous parts of Iraq. It was his third deployment since 9/11. It was his third deployment since getting married in 2001. He spent the past year in dust storms, seeing things blown up, and being in more danger than I will likely see in my lifetime.
He is now on his way home to Georgia and probably couldn't give a diddly damn about how much time I spent behind the wheel, especially since 100% of my trip was for pleasure and my own choice.
I can't quite say "welcome home" to MD yet. But, I can quit my bitching and honor his commitment to his job.
Our friend Live Apartment Fire did this story on MD six years ago. It's odd to think back and remember a time when we thought his time at Ft. Bragg would be the extent of his time away from his wife, family, and friends.
Safe travels, buddy. Hope to see you soon.