Artist Brian Olsen tangles me up
From the files of, "Wow, that was neat…"
It was a beautiful, albeit very warm, day here in Greenville. We made the best of it by starting at the Saturday Market (came home with fresh grass-fed beef steaks, strawberries, and local honey) and then walked down to Artisphere, an annual festival of visual and performing arts (more on all this in an upcoming post tentatively titled "Why Greenville Kicks Ass").
A performance artist named Brian Olsen was set up on the Falls Park stage normally reserved for Shakespeare in the Park and whatnot. My dad was interested in seeing Olsen perform, so we stopped.
Olsen starts with a blank black canvas and whatever music fits his current subject. I wasn't sure how long it was going to take, but when "Tangled Up in Blue" came over the speakers, I settled in. By the end of the first verse, Olsen had used nothing but his hands and some paint to create a face easily recognizable as Bob Dylan. By the end of the song, the image was early finished. I managed to remember to pull out my Flip for the finishing touches, done to "Subeterranean Homesick Blues."
Sure, it's not high art and the hipster art snob crowd might look down their nose at it, but it's a lot of fun and Olsen is a nice guy. He does a lot of corporate events, motivational engagements, and festivals and, despite being injured today, put on a great little 10-15 minute show.
And if you know me personally, you know there was a little serendipity in this morning's performance.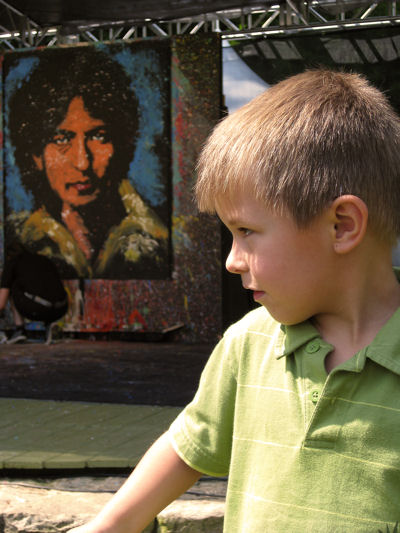 For more on Olsen, you can check out his website.