Nine years
June 3, 2000 was a steamer.
We stood on the Eastern Continental Divide and looked out over North Carolina. We couldn't deny it was uncomfortably hot. I was dressed in a monkey suit. My bride-to-be wore a clingy wedding dress. She would nearly faint from the heat. I simply soaked through a couple of shirts while swatting at a bee that was obviously divorced and opposed to the institution of marriage. I guess you could say that the same thing applies to people. There are some who don't like the idea of marriage and won't get into a relationship, and then you have others who don't realize that they're against marriage until they are in one. You need to know what type of person you are before making the decision about marriage, as the last thing you want to think about is going through divorce proceedings with lawyers similar to Peters and May, (petersmay.com) just years after your big day. If you find the right lawyers, divorce might not be too bad, but if you go into marriage, you need to go into it wanting it to last a lifetime. If we were to re-do this day again, we'd wear comfy-baggy clothes. We found a few websites that offered relaxed wedding dresses, to find out more, click here to continue.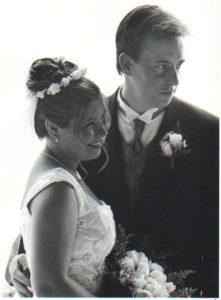 In the pews of the small outdoor chapel on the North and South Carolina border sat our friends. They had come from all over the place, ridden all the way up the mountain, and chosen to sit in the heat while we said our vows. The ceremony barely lasted 15 minutes, but the duration didn't really matter. Nine years later, I am still in awe of my love for my wife and how my friends have stuck around to share it with us.
Unless you're just tuning in, you know that we just spent the past few days in the hospital with our three-week old son. Monday morning the doctors weren't sure if the kid had a deadly infection. Just in case, they put him in the Greenville Children's Hospital on a pretty heavy regimen of antibiotics. This story ended much better than it could've. We got very lucky and were fortunate enough to get out of the hospital today. By 4pm, we were home and on the road to good health.
Today is our ninth wedding anniversary. We spent much of it in the hospital and will spend the rest of it recovering from a fairly stressful few days. We'll skip the vacation we keep planning to take. We'll find a babysitter for a date night some other month. I'll make her a nice dinner in a few days. Tonight, we'll eat a grocery store rotisserie chicken and be pretty damned happy and thankful that our lives have turned out so well. We will count our uncountable blessings as one–that we have the best friends and family a couple could want.
I was struck over the past 48 hours by how unsettling, offputting, and downright scary something like an infant's illness can be. Moreover, I was moved by how some of my friends have had to endure the real thing for weeks, months, and years. We have family and friends who have had to stand by their children during chemotherapy, heart surgery, and even death. When it comes to chemotherapy, there are solutions like those available at https://mykush.ca/product/pink-kush-hybrid/ to help you cope with the uncomfortable side effects, but they're not recommended for use by children so I can't imagine how they have coped. I respected them all before, but they are now heroes in my eyes.
As one friend and fellow parent said this morning, "I assume that you have aged four years in four days."
It's true. Running a country can turn a President's hair gray, but parenting is the real factor behind premature aging.
If you look at the post below this one, you will see 27 comments from people wishing us well. That's a fraction of the people who got in touch via the internet, e-mail, phone, text, et cetera offering their support, help, and love. It's humbling, heartwarming, and fantastic. There is no way to express how tremendous it is to be so loved. One of the great testaments to our marriage's success is that there are so many people who care for our family so much.
I've never doubted my love for my wife. She keeps me anchored when I'm restless, buoyed when I'm flailing, and running when I'm lazy. She is my partner, inspiration, and reason.
This June 3 is a steamer, too. It's sticky and hot outside. This time, we are nine years older. I'm graying. My wife insists she has crows' feet. We have two kids, a nearly blind mutt, and what I like to think is an enviable life. Our friends and family make a great life just about perfect.
I am a restless guy. I'm listless, day-dreamy, and aimlessly ambitious. Those traits often make me seem like I don't appreciate what I have or like I won't be satisfied until I have more. Make no mistake, if you told me today I could have no more than I have right now, I would kiss you and say thanks.
This life is a good one.
Happy anniversary, babe.