Priceless: Getting a peek at my hospital bill
Listen, I have a hard enough time explaining to my older son why he is left handed and his parents are right handed. The last thing I want to do is tell my sons why they have foreskin and I don't. That is to say, even if insurance wasn't paying for it, we weren't going to skimp on the circumcision.
"You can't put a price on your son's penis," my wife said. She's really wise sometimes.
If you read my blog post on health care reform, you know I've been having a tough time with the hospital since Dos was born. Our Blue Cross/Blue Shield insurance didn't cover maternity, we knew that going in, and we saved up our pennies until we had enough to cover the birth of a child in America. We were given a pre-pay, self-pay rate and paid off the birth four months before my wife climbed into the stirrups. Then somebody at the hospital business office thought it would be a fun game to bill our insurance anyway. Then the insurance company mistakenly paid part of the bill, and then wanted the money back.
That began a Kafkaesque three months of bureaucratic red tape, misapplied bills, and multiple accounts in which we were being told we owed more money than we paid last winter. The business office supervisor wouldn't return our calls. Bills kept coming. The insurance company–the one that doesn't pay for immunizations or Well Baby visits–wanted its damned money. The hospital wanted its damned money. My baby wondered what in the hell we had done to his penis. It was a tough time. The stress to me and the wife was a little too much and it probably would have been beneficial to look into getting aid from the likes of GoFundMe for our medical bill costs, but should we have to pay them?
Finally, we had enough. We took the morning off and marched to the hospital with a manila folder full of proof we were right. We made sure we walked out of the office with a receipt showing a zero balance and a digital voice recording of the supervisor saying the same thing. Finally, the long Mt. Otis nightmare was over.
"Mommy put off stripping another day," she told Dos. "I don't have to work the pole today."
That should've been it. Unfortunately, during the process of hugging it out with the hospital business office, we happened to get a glimpse of one page of our itemized bill. As you're probably aware, hospitals don't routinely hand out itemized bills (although I have since learned I should be able to get one just by asking). Even the business office worker seemed shocked when she was reviewing it.
"What is this for?" she asked, mouth hanging open.
"That was the ointment he received after his…" The supervisor lowered her voice. "Circumcision."
Now, as a child's circumcision is a moment every father dreads, I happen to remember every detail of that day, including the size and chemical make-up of the tube of ointment I had to spread on the poor kid's wanger. These are things a daddy just doesn't forget. What the nurse brought us was a very small tube of generic Neosporin. It lasted about three days.
The hospital charge for that little tube of generic triple antibiotic ointment: $166.
One hundred sixty-six dollars.
"One hundred sixty-six dollars." I kept saying it out loud on the drive home. I was so flummoxed, I pulled into a pharmacy and walked directly to the first aid aisle. I snapped an iPhone picture of the same medicine we got at the hospital.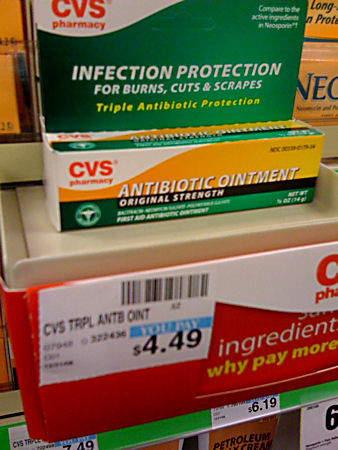 If for some reason you can't read, that's $4.49 for the exact same thing I got at the hospital for $166.
Back in the hospital, I couldn't control myself. I knew the lady behind the desk didn't have any control over it, but I couldn't help asking, "Isn't that a little ridiculous?"
She didn't even smile. She looked up and said, "Be glad you didn't get any Lortab."
Funny thing about that. The doctors and nurses couldn't have been pushing the Lortab any harder on my wife after the birth. I wouldn't have been surprised if the nurse had whispered, "Listen, I'll give you a taste for free, and you can tell me if you want more." The wife, again a wise woman (who doesn't mind a cool buzz), declined every time in favor of OTC pain killers.
"The Lortabs are $14 a pill," the business office supervisor told us.
Now, I've never bought Lortab for recreational use, but I know some people familiar with street prices as they are able to view the latest Prices For Prescription Drugs using certain websites online. I couldn't help but wonder who charged more, hospitals or drug dealers.
One reputable source told me today, "I would sling those for two for $10 or five for $20." And that would be at a very big mark-up. That's right. Had my wife needed Lortab, I could've picked up the drugs cheaper on the street than in the hospital.
Let me repeat: Hospitals charge 3.5 times more for drugs than drug dealers do!
Thank you, American health care system.
There are a thousand explanations excuses for why hospitals do this, but there are two reasons that stand out. One is obvious: profit. Second, it's to make up for the people who need medical assistance but can't pay for it. And that makes me wonder…all of the people who say they don't want their tax money to pay for other people under a reformed health care system, do they prefer to pay $166 for generic Neosporin and above illegal street prices for drugs? The money is still coming out of your pocket.
Many smart people have said one good health care reform would be to force hospitals to publish a services menu and stick to the prices on that sheet. Then customers could pick and choose their health care based on the cost. If I had even guessed the hospital was going to charge me $166 for a $4.49 product, I would've walked to CVS and bought it myself. But, because it was handed to me with my kid and his bleeding schlong, I didn't ask, and they certainly didn't tell.
You can hate President Obama if you want. You can say private industry can handle health care better than government. You can defend the cost of medical procedures until you're blue in the face. But don't try to tell me the American health care system isn't broken. I respect you, I think you're pretty smart, but if you think there is anything right about a $166 tube of ointment, you're a damned fool. It's not an anomaly. It's one example and it's as cut and dry as a well-healed circumscision.
Rub some ointment on that.