Eric Nicholson, ten years later
Eric Nicholson donated a pint of blood, told his wife Misty he loved her, and went back to work. It was December 6, 2000, a cold, clear day in Greenville, South Carolina. I don't know how many times since then I've thought about that moment Eric–a man I never met–said goodbye to his wife, a woman I would only come to know later.
Ten years ago this morning, I was sitting at my desk, wracking my brain, and trying to figure out how I was going to feed the news beast for the day. The police scanner decided that for me.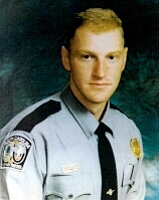 In December 2000, there was very little at the corner of I-85 and Woodruff Road. A failing office park had taken up much of the space and created a small tangle of outer roads just off the highway. Nicholson, a South Carolina Highway Patrol trooper, had just left Misty when he spotted a man riding a motor scooter on the freeway that cuts along Greenville's south side. It's illegal to ride a scooter on the interstate, and most people presume Nicholson was going to tell the rider just that. In another universe, the FBI was investigating a string of bank robberies committed by a man in a motorcycle helmet.
It's impossible to know what, if anything, Nicholson said to Wood that morning. It's impossible to know whether Nicholson made any connection between the bank robberies and the man on the scooter. It's impossible to know if Nicholson realized he was going to die.
We got there quickly. We saw the EMS techs load Nicholson into the medical helicopter. Later, local investigators managed to track down the shooter, John Richard Wood, a delusional criminal who picked his hotels based on whether the televisions had science fiction channels. He had a pregnant girlfriend and had promised her they would move to Belize. Deputies only captured Wood after he'd led them on a long chase, shot another deputy through a cruiser's windshield, and fell to the ground after being shot in the head. Wood and the injured deputy survived. Nicholson did not.
Over the years, I wrote countless stories about the case. I covered Wood's trial exhaustively and eventually saw him sentenced to death. During that time, I met Nicholson's wife, Misty, a woman who has since proven to be one of the strongest, most purpose-driven women I've met. At one time destroyed by her husband's death, she has spent every year since then working to make sure his memory survives. She organizes an annual blood drive on the anniversary of Eric's death to commemorate the last thing he did before running into Wood. She recently started raising money to buy police dogs for local law enforcement agencies.
Today, regardless of how busy I am, I'm going to give blood. I'll kiss my wife and tell her I love her. She and I were married six months before Eric died.
I do not forget how lucky I am to be able to come home every night.