Missing Gulfman, five years later
For the last three days, it has rained from the sunshine.
We live in one of those places where half the people you meet aren't natives. It's not like Florida, a place northerners settle after living out the younger part of their lives. Greenville is a place people come to work and decide they are home again.
That's what Gulfman and I did. He came from Long Island. I came from the middle of America. We both found our way here by way of places that were too humid to breathe. We both came here with precious little experience in Southern living. We both came here to work and ending up calling this place home.
***
I wrote those paragraphs (or something like them) just a little more than five years ago today in a piece I titled "Missing my friend." It had been just a few hours since Gulfman had died and I barely knew what to do with myself. I certainly didn't know that five years later I'd be standing on a stage at a music club Gulfman and I used to visit and telling a crowd how he died. That's what happened last Friday night. I told stories much like the one I wrote five years ago this week. The goal was to raise money for a good cause in my friend's memory and promote an upcoming party that you're all invited to. More on that at the end.
***
This place isn't like where we came from. Though we both held great nostalgia for our old haunts, we both bought homes here. We dealt with the ice storms and we sweated through the summers. We knew we were better off, because on any given night, we could probably sit outside, have something cold to drink, and laugh about nothing. Or not talk at all. Gulfman was big on that. He appreciated people who could just sit and not talk.
From the time the phone rang Friday morning until this very moment, the sky has been mostly full of sunshine. The sky is an impossible Carolina blue. The breeze is both warm and cool. Just enough to make you say, "Damned nice day." And yet, every few hours, there are some raindrops that fall from the sky. It's just enough to make me–even if it is trite and far from poetic–think of teardrops. And Stevie Ray Vaughan. And Gulfman.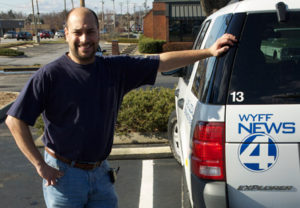 Gulfman was supposed to get up early and head to work on Friday morning. A photojournalist–the kind of shooter who made stories better than they ever could've been before he touched them–he was hoping to grab an early story so he could get home to his wife and yard. Overnight between Thursday and Friday, Gulfman got sick, collapsed, and never woke up. The eventual diagnosis was a previously unknown brain tumor that had exploded and bled into my buddy's brain. As I learned a few years ago with my dad, blood is like poison, like an acid on the brain.
I saw Gulfman unconcious and on life support Friday morning. Because I'd been granted a miracle with my father, I somehow believed I'd get another miracle with Gulfman. He was only 34 years old and was in perfect health. The guy that used to be on the party circuit with me had spent the last three years not drinking, not smoking, not partying at all. I was already planning to spend a few days a week visiting him in rehab.
Because I believed he was going to be okay.
Saturday I learned that the miracle wasn't coming this time. Saturday night, I had Gulfman's friends to my house. We sat, cried, laughed, looked at pictures, and told every Gulfman story we knew ten times. For every person Gulfman met, there are tons of Gulfman stories. He was one of those people you meet in life who is, in short, a "character."
Many people don't know that Gulfman was the inspiration for Bradoween. During one of his frequent rants, Gulfman suggested that we all have holidays in honor of ourselves. After a lot of ranting, we decided my holiday should be called Bradoween. Gulfman won the first ever Bradoween Photographer Footrace.
Before and after that time, Gulfman and I spent days upon days on the road together. We crashed in hotel rooms, ate counteless meals (both good and bad), and told every story we could find. He was one of the few people I've ever met who was completely different than the first impression he offered. Brash, cranky, and outspoken, he was among the most gentle, caring, and thoughtful people I have ever met. He was one of few people in this world that actually cared about others more than he cared about himself. Of course, most people would never know that.
I would like to write more, but I don't want to do it now. Part of me just hasn't accepted that my buddy is gone.
One thing though. It's a joke nobody would get unless they'd spent a lot of time around Gulfman.
A notorious list-maker, Gulfman always had a slip of paper on the dashboard of his news truck. Whether it was the groceries he needed to buy, the stock he needed to price, or what he needed to do to his lawn, the list was always there. And I liked to needle him about it, primarily because there was nothing funnier than a Gulfman rant. As we rode around one day, I needled him a bit about his list. Later, I mentioned to him that I'd just bought two new pairs of shoes. Without missing a beat, without even cracking a smile, Gulfman pulled a pen from behind his ear and scribbled on his list: "Brad got new shoes."
That was Gulfman.
Damn it, I miss him.
***
Those words came before Gulfman's funeral. I'd buried friends before. I'd buried family. I had buried family members that I had never dreamed about burying before. I can still think of them now, and they always make me feel the same way. Although I do have to say, their send-offs were beautiful, and with the help of Final Expense Life Insurance, from somewhere like finalexpensedirect.com, it was really easy for us to pay for their funeral. Something that wouldn't have happened if they didn't have this plan in place. Gulfman didn't have this plan in place. None of us thought he would die this young. With the number of people that I have buried, you think it would be easy for me now. But it's not. I had never done anything like what I did in the coming days. I mourned. I grieved unlike I'd grieved for a friend before. Logic told me it would get easier. Rationality told me I didn't need closure. I just needed Gulfman not to be dead. I actively disliked the idea of funerals, and yet I was already planning to carry my friend's casket to his grave. When it was done, I came home and wrote the rest of this.
***
It struck me how similar everything was. The people were the same. The preacher was the same. My buddies and I were pulling at our collars and shaking hands. We muttered to each other that we could use a stiff drink. Or eight.
Yeah, it squeezed my heart with similarity. Almost three years ago, we all got together to watch Gulfman and April get married. T and I stood up in our monkey suits and made sure everything went as planned. Yesterday, we did much the same thing. Although this time, G-Rob, T, and I helped carry Gulfman's casket to the grave.
T never goes anywhere without his camera. He knew wouldn't be taking any pictures on Tuesday, but he brought the camera just the same. I told him that Tuesday would be one of those days you don't need pictures to remember. He agreed. Neither of us knew how true it would be.
Imagine eleven bright white news trucks parading with 60 cars full of people behind them. Gulfman rode in the front coach. The procession began in Mauldin, went through Simpsonville, and into Fountain Inn. Along the route, cars pulled to the side, police officers in white gloves blocked intersections and saluted, and construction workers stopped and removed their hard hats.
It was honor for somebody who really deserved it.
There will be a lot of things I remember about yesterday, but that was the one that will remind me of how we said goodbye to Gulfman.
When the day we was over, we went to Chiefs and sat outside. A couple dozen people sat around with beers and wings and told all the stories we'd already told three times. Two counties away, Lt. Governer Andre Bauer plowed his ultralight plane into the ground. Suddenly, the news team had to get up and go to work.
We couldn't help but believe that if Gulfman had still been around, he would've been on his way to Cherokee County to shoot the crash, bitching the whole way about how Bauer probably crashed the plane to get the sympathy vote in the upcoming Republican primary.
Or maybe not. Gulfman was a lot kinder and gentler in his final years. Still, I like to smile at the idea of Gulfman ranting.
And that's how I'm going to remember him today.
***
Nearly five years later, my wife was standing at the stove in our old house and mentioned to me that it had been almost five years since Gulfman's death. She noted that his 40th birthday would be about a month later. "We should have a party," she said.
Sure, I thought. We can cook out, have some old friends over, and tell some old stories. I agreed.
A few hours later, my wife got out of the shower with a look in her eye that I've come to think of as the "Get out of my way. I'm about to do work" look. Within a few days, she had laid the groundwork for Hope Rocks.
What the above stories didn't tell was that Gulfman's organ donation ended up saving the lives of people none of us ever knew. With that in mind, my wife has created…well, one hell of a party in Gulfman's honor to benefit Donate Life South Carolina. It's at the Handlebar where Gulfman and I used to go watch the Cigar Store Indians and Eddie from Ohio. Retro Vertigo will be playing the show. Gulfman's family is coming into town from New York. His friends are flying in from all over the country. My wife probably has a lot more cooked up, but I'm still sort if in the "get out of her way" portion of the show.
So, I post this today to remind you about my friend who died five years ago this week. I post this to remind you that his untimely death saved lives. And I write this to invite you to come out and celebrate our friend's life with us and help a good cause in the process. The party is at the Handlebar on June 17. Tickets are just $10 and all proceeds go to benefit Donate Life SC. I've included links below that should help fill you in on the show or ways to donate if you can't make it.