Dear Coach Pinkel
Updated below
Tonight I sit here in South Carolina and look at my wife. She's wearing a fleece with a tiger on the back. Today, I drove my car to the gym. It has a tiger on the front license plate. All winter long, I wore a Mizzou pullover. I have a cap I wear everywhere with a tiger above the bill. There aren't a lot of Mizzou fans here in the Palmetto State, but those of us who are here fly the colors with pride.
I graduated from Mizzou in 1997. In my time there, I don't think I missed a football game. I was an Antler. I sat front row on the 50-yard line for season after season. I did push-ups with Truman on the grass around Faurot Field. I love Mizzou. I'm proud to have gone there.
A few days ago, my son asked for a new Mizzou jersey. He's outgrown his Chase Daniel #10, and he needs some new black and gold to flash around down here in Gamecock country. When I asked him what kind of jersey he might like, he asked for #15. He wanted to wear Dorial Green-Beckham's number.
See, back in December of 2011, my dad had just died. I had my family back in Missouri, and it was a tough time. In an effort to show my older son some sense normalcy, I took him to see my alma mater Willard High School play Hillcrest High in basketball.
"See that big guy?" I said to my son from the stands. "That's Dorial Green-Beckham. Wouldn't it be great to see him play football for Mizzou?"
And it was.
When the guy from my hometown came out on the Mizzou field in his #15 jersey, there wasn't a person in my family who didn't scream "DGB!" We wanted Green-Beckham to succeed. We wanted him to be Mizzou's biggest star. We wanted him to be the guy from my hometown who made it to the NFL.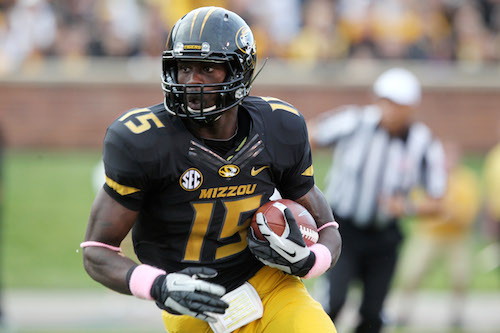 When Green-Beckham got busted for weed the first time, it made me uncomfortable. I, like so many don't have a moral objection to marijuana, although the current policies in professional sports leagues certainly are less forgiving when it comes to it, but Green-Beckham did show a certain lack of respect for himself. He got into a situation that could jeopardize his reputation and, by extension, the team's reputation. It was easily forgivable though. Just as I forgave your DUI—we all make mistakes—I hoped that Green-Beckham and his family would understand that to be a role model, you have to act like one.
When he got busted again this year—again for weed—I started to worry. Once is a mistake. The second time begins a pattern. It not only showed that Green-Beckham was adrift, but it showed that people like his coaches, family, and friends weren't paying close enough attention. Again, the weed doesn't bother me, but disrespect for his station in life does. Still, I would've put a #15 jersey on my kid's back and hoped DGB found a way to grow up and respect himself and his team.
But now I'm at a loss. The news from Columbia today indicates that the only reason my kid's hero is not in a cell right now is because the victim of Green-Beckham's alleged violence wouldn't press charges. The text messages released by the police suggest that the victim made this decision after a great many conversations with Green-Beckham's girlfriend. Those conversations indicate Green-Beckham's girlfriend begged the victim to consider Green-Beckham's potential NFL career. The conversations indicate Green-Beckham's father was offering money to back down.They indicate a lot more than that, and all of it is terrible.
I don't know what's true, but if even part of what police released is fact, I don't see how you could welcome Green-Beckham back to the Tiger team. Forgiving indiscretions with harmless drugs—even twice—is acceptable. But this? I don't know how this can be forgiven.
There is part of me—the journalist trained at Mizzou—that needs to hear the other side before reaching a conclusion. That part wants to believe Green-Beckham, the kid from my hometown who could've been a star, is being set up, extorted, or confused with some other out-of-control kid with exceptional athletic talent. And I will wait for that. If he or you have an explanation, please offer it. Publicly. Stand before the cameras and put up the best defense you possibly can.
Because this must be explained. Weed arrests are forgivable, but violence against women in any form is not, no matter what kind of career is on the line.
Coach Pinkel, if no explanation exists, if this is a situation in which there might be a crime but there are no charges, I don't see where you have a choice. Green-Beckham might have been a hero. He might have been the #1 pick in the nation. He might have been the biggest signing you've had at Mizzou. He might be the guy who could make the difference in the upcoming season. Even so, if there is no reasonable explanation for today's news, you have to let #15 go.
Why?
Because my kid wants a #15 jersey right now. My kid wants to sit with me and watch Mizzou games and cheer for the same Tigers who made us proud last season.
When you and the rest of the team took the opportunity to "Stand With Sam," I was the proudest Mizzou fan around. It made me sure I was rooting for the right team in college sports. If losing DGB means you have a losing season, I will still stand proud and support you. That's what I want to believe Mizzou is all about.
Next September, you're coming down to South Carolina, and I promised my kids I would take them to see Mizzou play the Gamecocks. I've got a dozen Mizzou fans ready to come down here from Missouri and cheer on the Tigers with me. Please let me do that with a clear conscience. I can explain to my kids that Green-Beckham doesn't play for the Tigers anymore. I'm not sure I could explain to them how I'm rooting for a coach who values winning over doing what's right.
***********
Update: Friday afternoon, April 11, the Missouri Tiger football team dismissed Dorial Green-Beckham.
I was amazed at the feedback this little piece got, but it reaffirmed my belief that Missouri fans couldn't abide Coach Pinkel accepting DGB back on the team. The coach is an honorable man, and he's proven it again by making a very, very tough decision to cut one of his most important players. Pinkel deserves our respect for that.
Meanwhile, I hope Dorial Green-Beckham finds a way to become a better man and atone for whatever he has done wrong. If he does that, I hope he can find success with another team some day in the future.
–BW