Honey, Google stopped by
So, yesterday, I spent a couple of hours tooling around with the Windows Live Writer program and its map function.  This morning, I woke up to read Random Connections and discovered my little burg has been visited by the Google Street view folks.  In fact, Google apparently stopped by my cul-de-sac sometime last winter.  On a Friday morning.  Before 9am.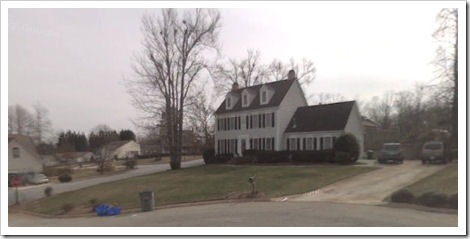 Friday morning, eh?  Well, yeah.  You'll see the recycling bins and trash can on the curb.  Those go out Thursday night and are emptied Friday morning.  We bring them in as soon as we can.  It's still morning, though, because both of our cars are still in the driveway.  It's certainly March or earlier because that big ol' sweetgum in the front yard has no leaves.   From other angles, I can also determine the Google Drive-by happened sometime in the last year or so, due to some different paint colors and the lack of bushes on the curb (thanks, UPS!)
Thanks to Random Connections for the heads up.  I'm really going to have to stop walking around naked if this continues.