Charity Worley: Reading between the profiler's lines
For full background on this case, visit the Charity Worley coverage section.
Henderson County Sheriff's investigators are trying to tell us something without actually saying it out loud.
You don't have to know much about law enforcement to know that investigators rarely get in front of TV cameras unless they need something. Cops don't take time out of their days to talk to reporters unless those reports can in some way help the investigation along in some way.
As you might know, nearly two years ago, I took a keen interest in the case of a young woman who was murdered not too far from here. In December of 2008, Charity Worley's family found her bludgeoned to death in her own driveway. It was early in the morning, and not too long after she had walked outside to warm up her car. At first, my interest was twofold. I started paying attention because a local TV news station grossly abused a 911 callwith the victim's mother. That interest led to meeting the victim's mother and chatting with her online over the past couple of years. Most of our conversations have been private. Some have been on the record.
The most recent thing I wrote on the case was last spring when Linda Casey, Worley's mother, talked to me about North Carolina State Bureau of Investigation investigators showing up on her doorstep and trying to get her other daughter Lindsey to confess to her sister's murder.
We're now closing in on the two-year anniversary of the case. North Carolina investigators recently brought in Bo Barton, a criminal profiler from the South Carolina State Law Enforcement Division. Barton took a fresh look at the case and today was put in front of the assembled media to give a public reading of his findings. I've listened to more of a few police news conferences in my day. You get to a point that you learn to listen a bit between the lines.
Tonight, I sat down and watched Barton's statement (which you can watch in its entirety below, courtesy of BlueRIdgeNow.com). I picked out a few telling lines from his analysis. I won't comment much further, both because I wasn't there to ask questions, and also because I don't think I really need to re-state what Barton is implying.
Bo Barton:
"This was not a random offender. The people of Henderson County need not be concerned that there is somebody running around in your county that is going to continue to do this."
"I believe this crime was committed by one person…a lone offender."
"The offender had a personal relationship with Charity and there was a conflict between the two that resulted in the murder of Charity."
"The offender will live within an extremely close proximity of the residence at 1004 W. Gilbert St. (the crime scene) at the time of the crime…extremely close."
"It would've been easy for a woman or a man to wield this pipe and deal the crushing blows that ended Charity's life that morning. Now you could see why it would be easy for a woman…or a man."
"The offender is familiar with the victim, her habits, and most specially, her morning rituals."
"The investigators and I believe that the offender is most likely a white individual in their mid-20s to mid-30s."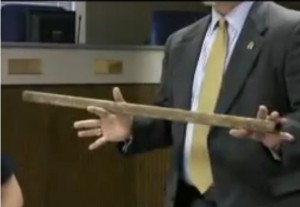 Barton showed a replica of the suspected murder weapon during the newser. He held it at different angles. He dropped it on the floor to demonstrate its weight.
When he was finished, he closed with one of the lines above.
Which one?
"Now you could see why it would be easy for a woman…or a man," he said.
And so, to boil down the profile, the out-of-state investigator believes that Worley's killer lived "extremely close" (Barton's emphasis) to Worley, knew Worley's early morning routines, had a personal relationship with Worley, had a personal beef with Worley, acted alone, and is possibly a white woman in her mid-20s to mid-30s.
Whether the investigators are right or wrong about the profile, whether they are right are wrong about how and why the crime went down, whether they are just as dumbfounded as they were two years ago, they have certainly and publicly whittled down their list of potential suspects.
Of course, it's entirely possible I'm reading in between the wrong lines. In this case, I certainly hope so.