Dale Fetner
The air got cold a few days ago. It felt like the beginning of winter. It felt like impending holidays. It felt like the times I'd have to scrounge for my gloves to go out on yet another live shot. It all reminded me of Dale Fetner.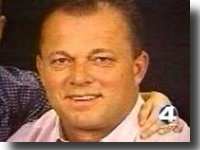 I never met the big guy. In fact, until I got the call he was dead, I'd never even heard the name. Stabbed, they said, outside a relatively nice apartment complex on the city's edge. The rumors surrounding who might be involved made it sound like the case would be solved in a matter of days.
It's been nearly eight years since the November night somebody jumped the big guy and stabbed him to death. Despite the highest single reward in the city's history to that point, nobody came forward with enough information for the local detectives to make an arrest. Eight years and Fetner's death remains a mystery.
Overnight, I got a comment on the old version of this blog from someone very close to Fetner. It was anonymous, although I think I know who you are. I don't know how to get in touch with you. If you'd like to chat a little more, e-mail me at [email protected] .