Much ado about a monkey
Sean Delonas should be embarrassed.
The New York Post editorial cartoonist has become a target of people like Rev. Al Sharpton and CNN's Roland Martin for the cartoon you see below. Delonas and the Post have been declared at best racist and at worst guilty of inciting violence against the President of the United States, Barack Obama.
Yes, Delonas should be embarrassed, but not because he is guilty of any of the above. He and his employers should hang their heads because this cartoon simply isn't funny. It's barely social commentary. And, worst of all, it's just lazy.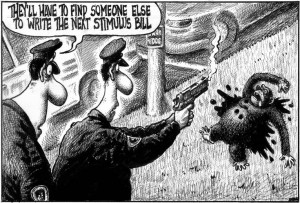 Click for full version
If you have been under a dead monkey and missed the uproar, folks like Sharpton and Martin have declared Delonas a racist because, as far as Sharpton et al are concerned, the chimp represents President Obama. Delonas and the Post say the chimp represents Congress. Martin says Delonas should've hung a sign around the monkey's neck that read "Congress." This back and forth has generated more than 1,000 articles on Google News and received hours upon hours of television coverage.
I am offended. By all of them. Sharpton and Martin are acting as opportunists. Delonas is just lazy.
Delonas' boss says the cartoon was based on the recent news about a chimp going bananas and tragically ripping off a woman's face. High comedy, to be sure.
As reasonable people, let's all agree on a few things.
Unless the chimpanzee was Reagan's Bonzo or B.J.'s bear, the attack should not have been national news and the lead story on CNN.com. Sure, it's water cooler talk and good for site traffic, but, come on. It's a barely famous animal attacking a random person. It's not national news. It's a sad local story and sick national voyeurism. It's a failure on the part of any national news outlet that ran the story in a prominent place.
Delonas is lazy and capitalizing on a tragic story. Of course we know Congress is made up of a bunch of monkeys who don't even read things before they vote on them. Depicting Congress as a bunch of monkeys is like depicting a puma as a jaguar.
Sharpton, Martin, et al are using a non-story about a bad cartoon to increase their public profile. It's sad, ridiculous, and not worthy of people who want to defend the President. If President Obama isn't offended, then everybody else should just shut up.
Delonas and the Post are imbeciles if they don't recognize the potential racist interpretation of the cartoon. Racism is still a major problem in the United States and it's a matter we should all hope to improve.
I have made no secret that I am a supporter of President Barack Obama. He inspires me and I have great hopes for his administration. I think he has already made mistakes and he will make more. I believe that he is strong enough to stay true to his convictions and proceed in a way he thinks best for the country. If he proves me wrong, I will be disappointed. All of that said, if he is not strong enough to deflect the worthless work of a dime store editorial cartoonist, we're in a lot more trouble than my friends on the right say.
And this (even this blog post) is this biggest problem. The more time we spend talking about maniacal chimps and two-bit Post cartoonists, the less time we have to spend talking about how to fix the economy, shore up our national defense post-Iraq, and restore our position as a country that does good.
I am working to maintain my optimism for 2009. So, for now I remain optimistic that people like Delonas, his boss, Al Sharpton, and Roland Martin fade into the obscure little place they are trying to create. There's work to do and those guys aren't getting the job done.